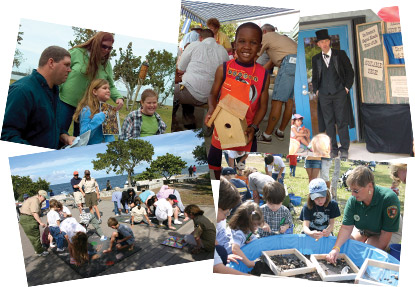 Photos by Thomas Strom and Christopher Boykin
Family Fun Fest is a free public program held on the second Sunday of every month from December through April. Each month, a different aspect of the park's diverse resources is highlighted at five hands-on activity stations located around the Dante Fascell Visitor Center. Participants receive a "passport" that they get punched as they complete each station. Those who get all five punches earn a specially-designed button to remember their day. Special activities for toddlers at Family Fun Fest Junior help make sure that the entire family gets to learn and have fun.
Family Fun Fest 2014-2015
The 15th season of Biscayne National Park's award-winning Family Fun Fest starts December 14, 2014. It will be chock-full of brand new activities, as well as the return of some all-time classics. The event's signature zany themes, creative activities and colorful buttons will all be back - and its all FREE! If you don't want to drive out to the park, just hop aboard the free Homestead National Parks Trolley in downtown Homestead at Losner Park!
This year's overarching theme is "REAL Science," and organizers have partnered with National Park Service researchers, local universities, and even international research organizations to help make families aware of some of the many projects happening in the park every day. "By exposing kids to real science and real researchers, we hope to plant the seed that any kid can aspire to be a scientist, too," said Gary Bremen, the event's coordinator.
Each Family Fun Fest event focuses on a particular theme highlighting some aspect of the park's diverse resources. Every month, participants receive a passport which they get punched as they complete each of five activities. Activities include games, science experiments, presentations and craft projects. After collecting all five punches, kids earn a specially designed button to remember the lessons learned.
The 2014-2015 schedule is:
Shark in the Park –December 14, 2014 –1 - 4 p.m. Discover the ocean's greatest predators! Inspired by last summer's visit of Katharine, the first documented great white shark in the park's history, our season kickoff will feature a hands-on encounter with shark fossils, a chance to experience sharks' more sensual sides, and an opportunity to talk to REAL great white shark scientists from OCEARCH!
Biscayne Bowl –January 11, 2015 –1 - 4 p.m. Are you ready for some football? How do you keep track of dolphins on (and in) the field? What plant has the greatest defense? What can you learn from a "quarter back?" Come get the answers to these questions and more when Family Fun Fest gets down on the gridiron!
Oodles of Ologies! –February 8, 2015 –1 - 4 p.m. Paleontology, geology, climatology, hydrology…scientists study all kinds of cool stuff!Get the dirt on what Biscayne's wildlife was like 10,000 years ago, get a behind-the-scenes tour of the park's water lab, and learn how anglers can help preserve marlins, swordfish and other amazing fish.
Inside Edition: SpongeBob –March 8, 2015 –1 - 4 p.m. Biscayne National Park is home to lots of sponges, but most of them don't wear pants, sing or dance! We salute another kids TV and movie classic while designing plankton, attending the Bikini Bottom Job Fair, and getting the inside scoop on Bob and all his buddies.
Quinceañera: Fifteen Years of FFF –April 12, 2015 –1 - 4 p.m. It's a fact of life. Everybody grows up…even Family Fun Fest. Match park animals with their baby pictures, discover some of the park's most coordinated dancers, check out some FAB-ulous outfits, and witness the most spectacular finale ever as we wrap up FFF Season 15!
Participants who earn all five buttons in a season are declared "Family Fun Fest Fanatics" and earn a special award in April.


Family Fun Fest Photos

See some of the best photos from each month's event in our online photo galleries! Read More