Scenic Drives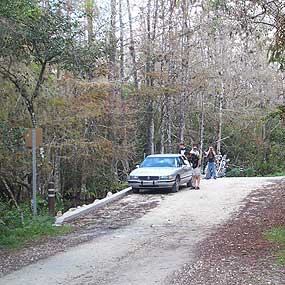 There are two popular scenic drives within Big Cypress National Preserve.
Loop Road is a 27-mile drive that travels through dwarf cypress forest, pine forests and deep strands.
Click here for a detailed guide.
Turner River / Wagonwheel / Birdon Roads Loop is a 17-mile drive that takes you by open prairies and popular wading bird feeding areas.
Click here for a detailed guide.
While visiting the Preserve, take the time to leave the beaten trail of US 41 (the Tamiami Trail) and take a more leisurely journey along one of these scenic drives.
Please remember that it is illegal to feed or harass wildlife. Do not attempt to approach alligators.
Additionally, there are several private home sites along both drives. Please respect private property rights of the residents.
Did You Know?

Feeding alligators creates nuisance alligators. Every year alligators that have been fed by visitors begin to lose their fear of humans. If these animals become aggresive they are killed to ensure visitor safety. To avoid this tragic end for these unique animals DO NOT FEED THEM.