Ranger-Led Activities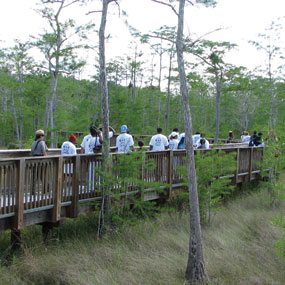 Enhance your understanding and enjoyment of Big Cypress National Preserve by taking part in a ranger program. Programs are offered at various locations from November to April. Topics include: plants, animals, human history, and more.
All Ranger-led programs are free. Check the schedule posted at visitor centers and bulletin boards throughout the preserve for times, places, and subject.
To make reservations, please call: (239) 695-4758. Reservations are accepted up to 14 days in advance of the activity date.
Guided Hikes
Be prepared to walk two to three miles. Wear sturdy footwear and bring a hat, sunglasses, sunscreen, and water.
Canoe Trips
Ever wonder what it's like to travel through a mangrove tunnel? These 4-5 hour programs offer a glimps into the "heart of the swamp." Be sure to bring your binocluars to spot the many bird species that inhabit the area.
Boardwalk Strolls
Stop by for 20-30 minute talks at Big Cypress Swamp Welcome Center, Oasis Visitor Center, Kirby Storter Roadside Park and H.P. Williams Roadside Park.
Evening Programs
Discover what makes Big Cypress such a special place. These 45-minute programs address a myraid of topics are offered many evenings during the winter months.
Special Request Programs
Schedule permitting, rangers are available for on-site special request programs and off-site presentations for school groups, civic organizations and other local groups.
For information and scheduling, please contact the education and outreach coordinator at 239-695-1164.
Permitted Commercial Operators
Various activities into the Preserve are also offered by permitted commercial operators. To view operators and permitted activities click here.
Did You Know?

Please do not feed any of the wildlife within the preserve. A "fed bear is a dead bear." This bear was fed and eventually became a threat to visitor safety. Nuisance wildlife is sometimes removed, but typically does not survive.