Third Annual Big Cypress Poetry Contest
April is National Poetry Month and what better way to celebrate than with a poetry contest? Inaugurated by the Academy of American Poets in 1996, National Poetry Month is held each April, when schools, publishers, libraries, booksellers, and poets celebrate poetry and its vital place in American culture.
Big Cypress National Preserve invites submissions for the third annual poetry contest. Participants are encouraged to explore the national preserve, and write about their experiences.
Artists, such as poets have been instrumental in bringing awareness of the significance and beauty of America's natural world to the people for over 200 years. Here is your chance to take part in this important and rewarding tradition!
Prizes will be awarded for first, second and third place, and poems will be displayed on the Big Cypress National Preserve website, and Facebook page. Winners will be selected by the staff of Big Cypress National Preserve by May 1, 2015.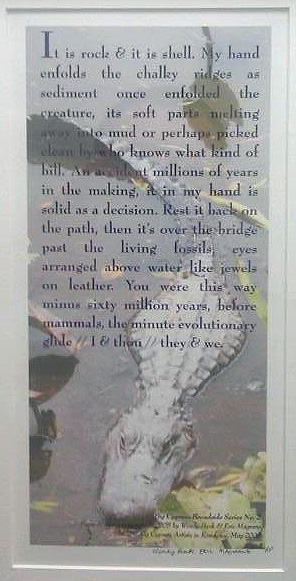 RULES
Poems must be 12-point font

P

oems must be single spaced

Poet can submit up to three poems

Poems may be written in any format

Poems are accepted March 1, through April 15

Poems must be original and unpublished

Poem must be subject related to natural or cultural history of South Florida

Poems cannot exceed two pages (title page does not count toward this limit)

Poems must include a title page with: Name of poem, name of poet, contact address, email and phone number
SELECTION
Entries will be judged on originality, creativity, and artistic merit. Decisions made by the judges are final.
FORMS
SUBMISSION & DEADLINE
Entries must be received no later than April 15, 2015. Each entry must be accompanied by a completed entry form with all information clearly filled out.
Entries may be emailed by clicking here, or mailed to the following address:
Big Cypress National Preserve
33100 Tamiami Trail East
Ochopee, FL 34141
Attention: Poetry Contest
For additional information, please call the poetry contest coordinator at 239-695-1165.