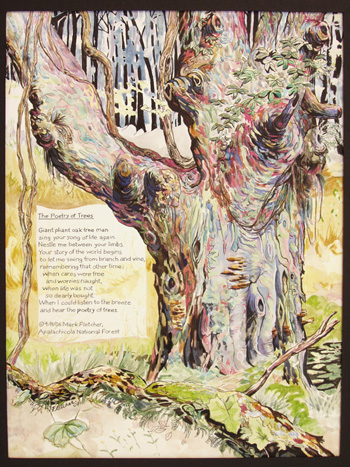 Mark Fletcher
"FLETCHER SKETCHES BIG CYPRESS"
Artist: Mark Fletcher
Medium: Ink/Watercolor Painting
When: November 1 through Janaury 31, 2015
Mark's residency at Big Cypress was December 22 through January 3, 2014.
"My method is to sketch and paint detailed observations from life. I complete some works entirely on site, relating the nature of the park directly in my work. In the studio, I recreate a particular site's impressions in more time consuming media. My art tends to raise public awareness and appreciation for nature in the United States.
When I show my work in galleries or museums, I encourage people to go to the places I have been. By visiting our parks, people are revitalized and will support plants and animals and their natural settings. These days our world is increasingly at risk, but America's national parks inspire folks to protect our ntaural resources."