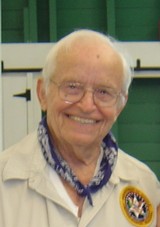 Courtesy/Marya Repko
Sam Vinikoff was born in London, England, in 1919. He attended several art schools, including Sir John Cass Art Institute, Toynbee Hall, Magdalen College, and Oxford.
Sam moved to Miami in 1957, with his wife Eve and two daughters, Linda and Sandy. He first opened a tailor shop and painted in his spare time. He gained local popularity with his caricatures of famous people. He began capturing the wild beauty of the Everglades on canvas more than 30 years ago and has become known as "The Everglades Artist."
Sam continued to travel to the Everglades even in failing health and knew he had a good day if he found a swallow-tailed kite, one of his favorites. He would spend days with park rangers from Everglades National Park and Big Cypress National Preserve and enjoyed many hours in the adjacent Fakahatchee Preserve State Park.
Sam Vinikoff died in 2010, at the age of 91.