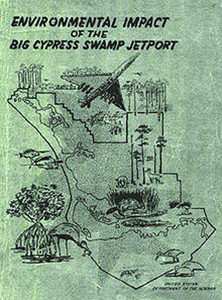 When the report was released in 1969, the report began by stating: "Development of the proposed jetport and its attendant facilities will lead to land drainage and development for agriculture, transportation, and services in the Big Cypress Swamp which will inexorably destroy the south Florida ecosystem and thus the Everglades National Park."
Alarmed by what the research suggested and the threat to an end of their traditional way of life, a coalition of hunters, conservationists and citizen activists, including, Marjory Stoneman Douglas, and the newly formed Friends of the Everglades, pressured the port authority to find another location for the jetport.
The coalition was aided in no small part by Dr Luna Leopold's environmental impact study.
In 1970, work on the jetport was halted through the Everglades Jetport Pact, which resulted in the port authority immediately instituting measures to search for another jetport location.