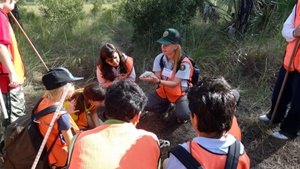 Interpretation Internship
Big Cypress National Preserve is currently accepting applications for the interpretation internship. This internship runs from mid November to mid April. Ptriority will be given to applicants who can commit to the full season.
Candidates should demonstrate proficiency in public speaking, computer skills, and an ability to work as part of a team. In return for 40 hours of work each week, the intern receives a uniform, housing, and envaluable work experience in a National Park Service site. Depending on funding, a weekly stipend of $150 may, or may not be available.
Please click on the following link for more information about this internship:
Interpretation internship 2014-2015
---
For more information about this and other internships in the preserve, please contact the volunteer coordinator via e-mail, or by calling 239-695-1229.
To apply, submit a cover letter, resume, and contact information (phone, postal address, and/or email) for three references to:
Big Cypress National Preserve
Attn: Volunteer Coordinator
33100 Tamiami Trail E
Ochopee, FL 34141