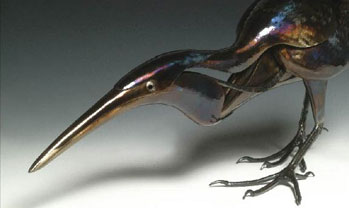 ARTIST-IN-RESIDENCE PROGRAM
The Artist-In-Residence Program at Big Cypress National Preserve offers professional writers, composers, and visual and performing artists the opportunity to pursue their artistic discipline while being surrounded by the preserve's inspiring landscape.
Selected artists stay in a dormitory setting, with each person having their own room, and sharing living room / dining room / kitchen and bathroom space. We do not accept pets in housing, nor do we allow for spouses within the housing area.
Requests for reimbursements for travel and other expenses will not be granted.
Big Cypress primarily looks for short-term (less than one month) and long-term (one to three months) residents during our wet (May through October) and dry (November through April) seasons. In August of each year a board of people will review the applicants for the following year and select the participants for each opportunity.
In total, the preserve accommodates four candidates from April through November. One short-term / wet-season, one long-term / wet-season, one short-term / dry-season and one long-term / dry-season.
Artwork Donations
In return, participating artists are required to donate two original pieces of artwork from, and representative of their residency in Big Cypress National Preserve. One is donated to the National Park Service and the other to the Friends of Big Cypress. Donated artwork must be received no later than one year after an artist's residency.
Artwork from visual artists should be archivally framed with glass and prepared for hanging before donation.
Artists are also required to provide the copyright for this artwork to the National Park Service. The National Park Service will not allow the commercial use of any donated artwork once it is selected and accessioned into the Preserve's permanent museum collection. Artwork may be used in exhibits and for educational purposes by Big Cypress National Preserve's nonprofit cooperating association for their products.
The artist retains a royalty-free, nonexclusive use license under the copyright of the art.
The National Park Service owns the artwork and the rights to reproduce it. Under those rights, the artist has a license to make use of the artwork for his or her purposes. When artists reproduce artwork for their own purposes, publication information will include the language: "This artwork was produced under the Artist-In-Residence Program at Big Cypress National Preserve."
These creative works are exhibited as frequently as possible and shared with the public through other appropriate means. Artwork not on display is stored in the preserve's secure, environmentally controlled museum storage facility.
Selection is based on artistic caliber, the artwork's ability to communicate the values and processes of Big Cypress National Preserve, and to meet the needs and scope of the preserve's art collection.
Ideally, both the NPS and Friends pieces will be photographed and published in an "Art of Big Cypress" publication.