There will be a variety of thought-provoking discussions throughout the day.
PLEASE NOTE: There is limited seating and shade available at the Swamp Heritage Festival, so please feel free to bring your own chair or blanket to sit on and plenty of sunscreen and a hat to wear for protection from the sun.
10:00-10:30
Presenter: Lynwood Scott & Victor Frank
Locals, Storytellers
Remembering Days spent in Big Cypress National Preserve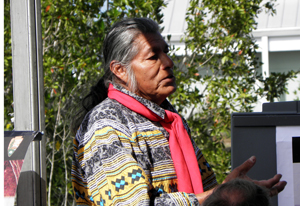 10:30-11:00
Presenter: Bobby C. Billie
A Clan Leader and Spiritual Leader Council of the Original Miccosukee Simanolee Nation Aboriginal Peoples
The Council of the Original Miccosukee Simanolee Nation Aboriginal Peoples is a separate nation from the federally recognized Miccosukee Tribe of Indians of Florida and the Seminole Tribe of Florida. Mr Billie, says; "We are different from these two groups who split off from the original Miccosukee Seminole Nation to form governments under the US Indian Reorganization Act in 1957 and 1961. We still continue to govern ourselves under the Natural Law, the Creator 's Gift."
10:30-11:00
Presenter: Leroy Osceola
Council, Everglades Miccosukee Tribe of Seminole Indians
The Everglades Miccosukee Tribe of Seminole Indians is separate from the Seminole Tribe of Florida and the Miccosukee Tribe of Florida. Mr Osceola, says; "We are not connected politically with these two tribes both of which organized tribal councils under US federal law. We continue to follow our traditional way of life and govern ourselves under our traditional government."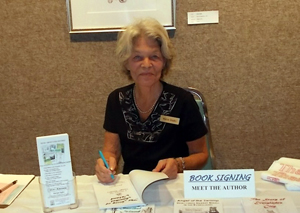 11:00-11:30
Presenter: Marya Repko
Author
Marya Repko will talk about how Marjory Stoneman Douglas helped rescue the Big Cypress from ruin by the proposed jetport that would have been built here, and about the life of this amazing woman who was so influential in our thinking about the greater Glades.
Marya grew up in Hadlyme, Connecticut, but lived most of her life in Europe as a software engineer. After retirement, she moved to Everglades City, Florida, where her first book, A Brief History of the Everglades City Area, has sold thousands of copies. Other brief histories of Deaconess Harriet Bedell, Marjory Stoneman Douglas, the Fakahatchee, and Sanibel have been well-received, as have the children's version of the Everglades and Sanibel books.
Marya is President of the Everglades Society for Historic Preservation, newsletter editor of the Friends of Fakahatchee, and co-editor of The Mullet Rapper.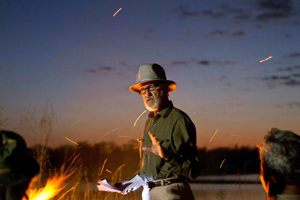 11:45-12:15
Presenter: Franklin Adams
Conservationist, Gladesman
The Birth of the Big Cypress. Early memories and the fight to preserve the Big Cypress.
A native of Miami, Florida, Franklin Adams first came to Big Cypress with his father when he was six years old. He's been coming back as often as he can ever since.
As a former land surveyor he surveyed in Big Cypress and Everglades National Park early on. He later moved to Collier County 43 years ago, from Miami, where he became involved in the efforts to preserve the Fakahatchee Strand and Big Cypress. He has also served as Collier County Chairman of Friends of the Everglades, Marjory Stoneman Douglas founder, conservation representative on the Big Cypress Swamp Oil Advisory Committee for a decade, former Chair of the Florida Wildlife Federation and longtime member board of directors, and founder of the Florida Wildlife Federation Southwest Florida Office.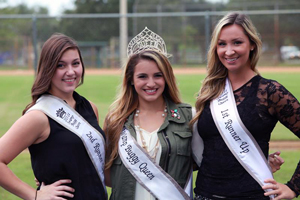 12:15-12:45
Presenter: Jillian Sanchez, and her court, Taylor Gunnglunson, Kaylee Leborgne, & Mae Enlow
Naples Swamp Buggy Queen
Jillian and her court will talk about the swamp buggy races and their experiences and being the queen and court for the races.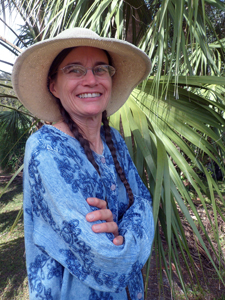 12:45-1:15
Presenter: Carol Mahler
Writer, Historian & Folklore Performer
Guy LaBree, barefoot artist of the Florida Seminoles, paints Big Cypress. Carol Mahler will talk about how Guy LaBree has portrayed the Big Cypress in his award-winning paintings of Seminole legend, culture, and history as well as Florida wildlife.Two of his images represent the Seminole Tribe of Florida in the Smithsonian National Museum of the American Indian. LaBree focuses on the Seminole point of view, one that considers the Big Cypress as a "traditional home and ally of the Seminoles." Although his source of inspiration varies, his choices of details emerge from a lifetime of observing Florida nature, reading historical accounts, and talking with experts. He also corroborates these facts with his Seminole friends to create truly authentic scenes of the Big Cypress.
Also
Carol will provide a booksigning -Guy LaBree, Barefoot Artist of the Florida Seminoles. Carol will also provide a book reading/story telling at the festival campfire corner.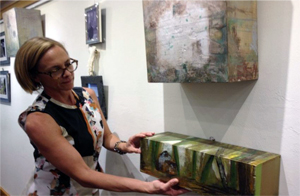 1:30-2:30
Presenter: Deb Mitchell, Linda Apriletti, Jackie Roch & Hannah Ineson
Previous Artists-In-Residence at Big Cypress National Preserve
Will share their stories about their residencies at Big Cypress.
2:30-3:00
Presenter: Maureen Sullivan-Hartung
Author
Reading and story-telling Hidden History of Everglades City and Points Nearby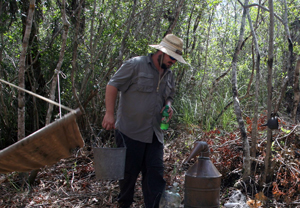 3:15-3:45
Presenter: Jack Shealy II
Local, Guide, Storyteller
Join Jack M Shealy for a talk about growing up in the big cypress and how it influenced his carrer as a full-time guide and proprietor of Everglades Adventure Tours. The campfire talk will also include an overview of his family's history and Gladesmen cultural heritage.
Born and raised in the swamps, Mr. Shealy is a fourth-generation native of Big Cypress. The Shealy family's cultural heritage runs deep in the western Everglades dating back to the late 1800s.

This festival provides a venue for individuals and groups with a deep connection to the Big Cypress Swamp an opportunity to share stories of the past and hopes for the future related to this special place. The views and opinions of participants are not necessarily those of the National Park Service.