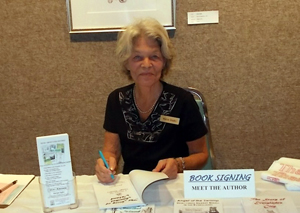 11:00-11:30
Presenter: Marya Repko
Author
Marya Repko will talk about how Marjory Stoneman Douglas helped rescue the Big Cypress from ruin by the proposed jetport that would have been built here, and about the life of this amazing woman who was so influential in our thinking about the greater Glades.
Marya grew up in Hadlyme, Connecticut, but lived most of her life in Europe as a software engineer. After retirement, she moved to Everglades City, Florida, where her first book, A Brief History of the Everglades City Area, has sold thousands of copies. Other brief histories of Deaconess Harriet Bedell, Marjory Stoneman Douglas, the Fakahatchee, and Sanibel have been well-received, as have the children's version of the Everglades and Sanibel books.
Marya is President of the Everglades Society for Historic Preservation, newsletter editor of the Friends of Fakahatchee, and co-editor of The Mullet Rapper.