Pack It In, Pack It Out, Recycle Policy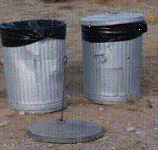 NPS
In an effort to remove litter from the lake, decrease the cost of trash collection, and decrease bear activity at boat-in only campgrounds, all trash cans located on the lake have been removed. Bighorn Canyon is asking boaters to Pack It In, Pack It Out, and Recycle.
Did you know that much of the trash and litter found on the lake originates from the packaging of food items? Many of those items can be recycled.
Aluminum cans and plastic bottles can be recycled in recycling containers located at:
Horseshoe Bend
Barry's Landing
Ok-A-Beh Marina
Community recycling trailers in Lovell, Wyoming at the Red Apple Grocery store
At the Park Service Headquarters office in Fort Smith, Montana.
In addition to Pack it in, Pack it Out, and Recycle, please help us decrease our human footprint on the lake by:
1) always keeping a clean camp;
2) packing out all trash and placing it in trash bins located at the boat ramps;
3) not burning food or trash items in the fire pits;
4) not placing trash in the floating comfort station pits
5) by using the aluminum and plastic recycling bins.
Did You Know?

The first 13 miles of the Bighorn River below Yellowtail Dam is the most fished area in the state of Montana, often attracting over 100,000 anglers each year. Surveys show that 75 percent of summer anglers are from out of state. More...