Horses and Pack Animals
Exploring Bighorn Canyon National Recreation Area on horseback or with pack animals can be fun and rewarding, but requires some preparation on your part. We want you, your animals, and other visitors to have a great experience!
Commonly Asked Questions
Where can we ride horses in the park?
Horseback riding is permitted in the south district of Bighorn Canyon National Recreation Area.
Where can we camp with our horses?
Camping with horses is restricted to the Common Corrals area northeast of the Ewing/Snell ranch.
Where can we not take our horses?
Horses are not allowed in the parking areas, campgrounds, and historic ranches. Some hiking trails maybe utilized for horseback riding.
Are there restrictions on feed?
Feed must be palletized or certified weed and seed free.
What other regulations should I know about?
All livestock entering or leaving the recreation area must meet state requirements regarding health certificates and brand inspections.

I have other specific horse and pack animal use questions. What number should I call?
Please call South District Ranger Dale Kissner at 307-548-2251.
Did You Know?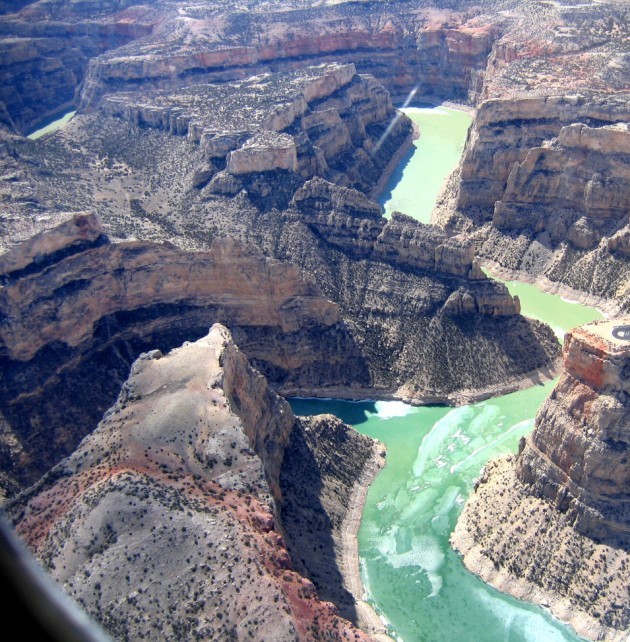 Long before the Bighorn River was tamed by the Yellowtail Dam, the roiling waters through the canyon were feared. During spring snowmelt, the water turned into a raging torrent, a combination of whirlpools, rapids, and eddies. Conversely, the river through the canyon had a reputation for being placid by late summer, when dry heat and lack of rainfall turned it into a sedate stream. More...