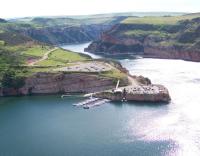 NPS
Ok-A-Beh Marina
The Ok-A-Beh Marina is located near Fort Smith, Montana, south of Hardin. It is open from Memorial Day until Labor Day throughout each year. The operating hours will be:
Weekdays: 10:00 AM to 7:00 PM
Weekends: 9:00 AM to 7:00 PM
Marina offers:
To contact the Ok-A-Beh Marina: Phone is out right now.