Concessionaires
If you are unable to bring your boat or do not own a boat, there is still hope of seeing the canyon from the water. You may join Hidden Treasure Charters for an unforgettable journey, rent a canoe from Horseshoe Bend Marina or a pontoon boat from the Ok-A-Beh Marina.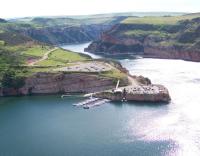 NPS
Ok-A-Beh Marina
The Ok-A-Beh Marina is located near Fort Smith, Montana, south of Hardin. It is open from Memorial Day until Labor Day throughout 2011. The operating hours will be:
Weekdays: 10:00 AM to 7:00 PM
Weekends: 9:00 AM to 7:00 PM
Marina offers:
Gas and Oil

Safety Equipment

Fishing and Boating Supplies

Boat Storage

Food and Beverages

Pontoon Rentals

Lunch and Dinner
To contact the Ok-A-Beh Marina:
Phone: 406-666-2349
Address: Ok-A-Beh Marina
PO Box 515
Hardin, MT 59034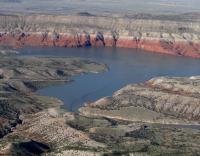 NPS
Horseshoe Bend Marina
The Horseshoe Bend Marina is located 14 miles outside of Lovell, Wyoming, just off Wyoming Highway 37. It is open Memorial Day weekend through September 30th.
The Marina offers:
Gas and Oil
Safety Equipment
Fishing And Boating Supplies
Paddle Boat Rental
Food And Beverages
Boat Slip Rental
Food And Snacks
To contact the Horseshoe Bend Marina:

Phone: 307-548-7230 (Summer)
623-693-0576 (Winter)
E-mail: montxc@yahoo.com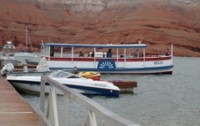 Hidden Treasure Charters
Hidden Treasure Charters & Wyoming Eco-tours
Hidden Treasure Charters offers scenic boat tours of Bighorn Canyon.
Services Offered:
2 hour tours daily from Horseshoe Bend during summer months.
Fri, Sat, Sun 10 a.m. and 2 p.m.
Large group tours and fishing charters by reservation.
To contact Hidden Treasure Charters:
Phone: 307-899-1401
Email: garrison@tritel.net
Website:
Address: Hidden Treasure Charters, 515 RD 2AB, Cody, WY 82414
Did You Know?

Fort C.F. Smith, was the most isolated of the posts which guarded the Bozeman Trail. Active from August 1866 to July 1868, it was under constant threat from the Sioux and Northern Cheyenne tribes during Red Cloud's War. The U.S. government was forced to abandon the fort and trail. Some historians have called this conflict, "the first war the United States ever lost." More...