Bighorn Canyon Visitor Center Hours to Change
Date:
August 18, 2009
Contact:
Dale Kissner, 307-548-5401
The Cal Taggart Visitor Center at Bighorn Canyon National Recreation Area will be changing to fall and winter hours effective September 13, 2009.  The hours of operation will be 8:30 a.m. to 4:30 p.m. seven days a week. 
From December 6, 2009 – March 27, 2010, the visitor center will be open five days a week from 8:30 a.m. to 4:30 p.m. Thursday – Monday.  The visitor center will be closed on Tuesday and Wednesday.  The visitor center will also be closed on federal holidays during this time to include Thanksgiving Day, Christmas Day, New Years Day, Martin Luther King Day and President's Day. 
On March 28, 2010, the visitor center will again be open seven days a week from 8:30 a.m. to 4:30 p.m; until May 23, 2010 when the summer season will extend visitor center hours from 8:00 a.m. to 5:30 p.m. seven days a week.
When the visitor center is open, park interpreters will be available to assist visitors by supplying information, answering questions and making available audio-visual presentations.  The Western National Parks Association (WNPA) bookstore will also be open and selling park books and educational materials.
For additional information, you may contact Dale Kissner, South District Ranger, at 307-548-5401.
Did You Know?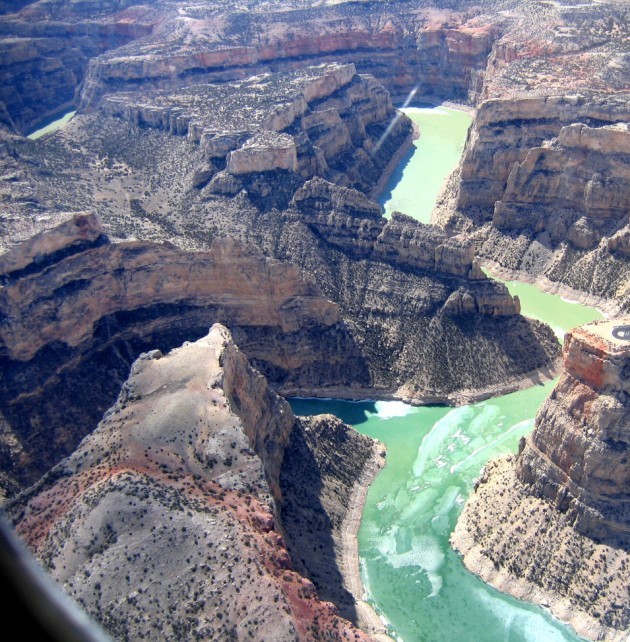 Long before the Bighorn River was tamed by the Yellowtail Dam, the roiling waters through the canyon were feared. During spring snowmelt, the water turned into a raging torrent, a combination of whirlpools, rapids, and eddies. Conversely, the river through the canyon had a reputation for being placid by late summer, when dry heat and lack of rainfall turned it into a sedate stream. More...