Ranger-led Programs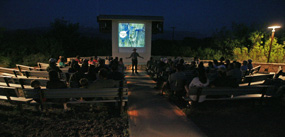 J. Axel - NPS
Ranger-guided programs
Join a park ranger for a guided hike, evening program, talk, or workshop on Big Bend's natural and cultural history. These free programs are offered daily. Programs vary weekly, so check at any visitor center for a current schedule when you arrive, or view it ahead of time here. [The new program schedule is usually posted to the website the Friday before the following week]

Personal Ranger Tours
Personal guided ranger tours are available on a first-come, first served basis for families, groups, or individuals. These personal tours are provided for a fee of $40.00 per hour, with a four-hour minimum. This fee covers salary, government vehicle milage, and administrative costs, and must be paid with a check or money order only.
The personal ranger tours are offered in addition to our regularly scheduled free programs, walks, and talks, and focus on a specific topic or area.
The advantage of the fee tour is a guarantee of a personal tour at a given time and place for a specific group or family. Personal tours are available on a wide variety of topics related to park resources.
Transportation is not provided for the tour group, and usually does not include trips on backcountry roads, nor is this a general tour of the park. If you are interested in a general tour of the park, contact Far Flung Outdoor Center at 1-800-839-7238 for jeep tours, or Big Bend Resorts and Adventures at 1-800-848-2363 for a variety of tour options in the park.
These personal tours are highly dependent on staff availability; therefore, advance arrangements of at least two weeks are required. For more information call the Division of Interpretation and Visitor Services at 432-477-2802 or email for more information or to check on availability of a given ranger tour.


Did You Know?

The largest spider found in Big Bend National Park is the Tarantula.  Males are often seen crossing the roads in late summer or early fall searching for a mate. More...