Extreme Water Shortage

Extreme water shortage throughout park. Visitors are limited to 5 gallons per day, and are encouraged to conserve further when possible. Please consider bringing your own water to the park.
Schedule Of Events
Search for Events
Sorry, but there are no events between 09/01/2014 and 10/01/2014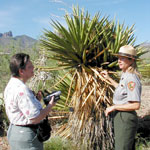 Ranger-guided programs
Join a park ranger for a guided hike, evening program, talk, or workshop on Big Bend's natural and cultural history. These free programs are offered daily. Programs vary weekly, so check at any visitor center for a current schedule when you arrive, or view it ahead of time by clicking the link.
more...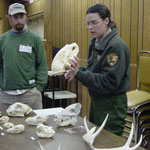 Educational programs
Big Bend is an amazing resource that is just waiting for you and your students to discover. Plan ahead to ensure a rewarding educational experience—whether you plan on bringing your class to Big Bend or want to bring Big Bend to your classroom.
more...
BBNHA Seminars
The Big Bend Natural History Association sponsors a seminar program that offers a wide variety of ways to explore the secrets of the region and to learn about the wonders of the land from instructors who are informed, responsive, and insightful about their subject.
more...
Daily Report
Your source for what's happening in Big Bend. Weather forecasts and temperatures, river levels, closures, and other information can be found here!
more...


Did You Know?

The Fossil Bone Exhibit tells of the time when mammals rose to dominance, when sand in the forest streams buried and preserved the bones of early mammals. Stop there for a moment to imagine the Big Bend of another era: a time when Tornillo Flat was a lush forest.