Extreme Water Shortage

Extreme water shortage throughout park. Visitors are limited to 5 gallons per day, and are encouraged to conserve further when possible. Please consider bringing your own water to the park.
Backcountry Water Sources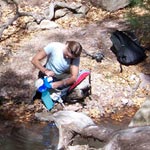 NPS Photo/Eric Leonard
Big Bend is a desert park; water is precious, ephemeral, and unpredictable.
Dry desert air quickly uses up the body's water reserves. Carry a minimum of one gallon of water per person per day. Use available water sources in the backcountry only to augment the water supply you carry (filter all water taken from the backcountry). Cache water for long excursions such as the hiking the Outer Mountain Loop. Never stake your life on intermittent water sources.
High Chisos
Boot Spring is unreliable and usually dry. Depending on the season, and the amount of rainfall received, water may be present in small pools and depressions along the Boot Canyon Trail. This water is vital to wildlife; please keep it clean. Take water only when absolutely necessary.
Desert Water

Springs and tinajas (depressions in rock where water collects) are unreliable and may be unsafe to drink. Springs are rare in the desert and wildlife depend on them. Please carry enough water to supply your own needs.
Rio Grande
The quality of water in the Rio Grande through the Big Bend region is highly variable. We reccomend drinking river water only as a last resort.


Did You Know?

A few miles into Green Gulch, to the left of the road and high on the slopes of Lost Mine Peak, is a small cave that looks like a little house and is called the Watchman's House. According to legend, this cave is occupied by the ghost of the Indian slave who guarded the mine in the Chisos Mountains. More...