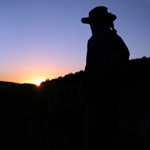 Photo Courtesy - Adam Lewis
Going solo?
Solo backcountry users obtaining a backcountry camping permit are strongly encouraged to fill out and submit a Solo Hiker/Boater information sheet when receiving a camping permit. This information sheet assists searchers should you become lost or injured. Please take the time to fill it out completely. You must return your permit to a visitor center within 12 hours of leaving the backcountry to insure a search is not initiated.
In addition to the form, park staff will ask to take digital photographs of the hiker/boater's equipment and bootprint.
Solo Hiker Form
(56k PDF file)