Extreme Water Shortage

Extreme water shortage throughout park. Visitors are limited to 5 gallons per day, and are encouraged to conserve further when possible. Please consider bringing your own water to the park.
Solo Hikers & Boaters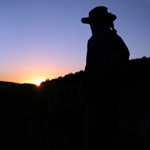 Photo Courtesy - Adam Lewis
Going solo?
Solo backcountry users obtaining a backcountry camping permit are strongly encouraged to fill out and submit a Solo Hiker/Boater information sheet when receiving a camping permit. This information sheet assists searchers should you become lost or injured. Please take the time to fill it out completely. You must return your permit to a visitor center within 12 hours of leaving the backcountry to insure a search is not initiated.
In addition to the form, park staff will ask to take digital photographs of the hiker/boater's equipment and bootprint.
Solo Hiker Form
(56k PDF file)
Did You Know?

Toll Mountain, 7415' (2260m), a prominent part of the Chisos Basin, is named for Roger Toll, an early Superintendent of Yellowstone National Park. During winters, he evaluated proposed park sites. It was in this role, leaving the Big Bend in 1936, that he was killed in a car accident. More...