Extreme Water Shortage

Extreme water shortage throughout park. Visitors are limited to 5 gallons per day, and are encouraged to conserve further when possible. Please consider bringing your own water to the park.
Solo Hikers & Boaters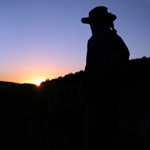 Photo Courtesy - Adam Lewis
Going solo?
Solo backcountry users obtaining a backcountry camping permit are strongly encouraged to fill out and submit a Solo Hiker/Boater information sheet when receiving a camping permit. This information sheet assists searchers should you become lost or injured. Please take the time to fill it out completely. You must return your permit to a visitor center within 12 hours of leaving the backcountry to insure a search is not initiated.
In addition to the form, park staff will ask to take digital photographs of the hiker/boater's equipment and bootprint.
Solo Hiker Form
(56k PDF file)
Did You Know?

Russell E. Dickenson, eleventh Director of the National Park Service (May, 1980-March, 1985) served as Chief Ranger at Big Bend National Park in 1955-56. He later recalled that "Big Bend was a compression of ten years of experience into one." More...