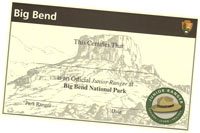 What is a Junior Ranger?
A junior ranger is someone who, after attending ranger programs and completing activities in a workbook, promises to take care of Big Bend and other national parks. It is a great way to learn and have fun in the park!
Become a Big Bend Junior Ranger
Discover Big Bend history, the parts of a cactus, and what javelina eat! The Big Bend Junior Ranger program is designed for kids of all ages. Through activities, games, and puzzles, kids can have fun as they learn about the park. Required activities include attending a ranger-led program, visiting a historic area, hiking on a park trail, and completing activity pages that encourage direct experience and discovery learning in diverse park environments. Both children and adults benefit by sharing the fun of becoming a Big Bend Junior Ranger.