Schedule Of Events
Note: Events are subject to change. Check this website or phone (719)383-5010 for details and more information on these and other special events.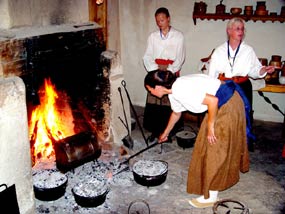 NPS
Frontier Skills Day: March 16, 2013
Adults are invited to take on various roles at the fort for a day. Be a hunter, blacksmith, trader, carpenter, laborer, or domestic. Nineteenth work tecniques accurate to the fort's history will be taught and experienced as part of their character role's regular work routine of the 1840s. Visitors are invited to observe the participants as they practice their skills. Space is limited and a fee of $20 and pre-registration is required. Call (719) 383-5026 for more information. Click here for a registration form.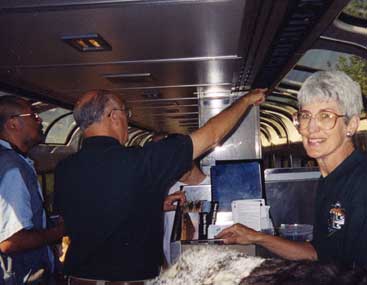 NPS Photo
May 5 - September 2, 2013: Trails and Rails Trips
Narrated excursions aboard Amtrak's Sourhwest Chief depart La Junta, Colorado on Mondays and Fridays for overnight trips to Albuquerque, New Mexico. Ride the train as it folllows the Mountain Branch of the Santa Fe Trail up and over Raton Pass. Interprerters will tell the stories of the people, plants and animals that are found along the way. Train tickets must be purchased through an AMTRAC distributor. For information about narrated tour, call (719)383-5024.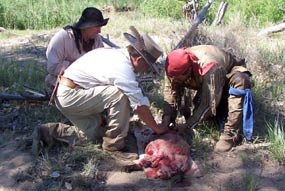 NPS
June 8, 2013: Living History Encampment Public Visitation Day
A popular training event for teachers, history enthusiasts, and new park volunteers, the Encampment includes classroom instruction as well as hands-on living history work at the fort and in the camps. Pariticipants pre-register and pay $300 for the 5 days of training. On June 8th, the participants will be ready to demosntrate what they learned. A study packet is provided for the students to help them prepare for the training. Participants will be able to apply for graduated level college credit through Adams State University. Click here for an application. Call (719) 383-5023 for further information.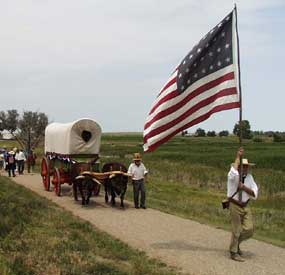 NPS
Frontier Fourth of July Celebration
Join in with the trappers, traders, and Bent and St. Vrain company employees as they celebrate Independence Day the way it was done in the 1840s. A parade, speeches, cannon firings, games, debates, and ice cream making will dominate the scene. The Fourth of July was one of the few holidays that was celebrated in the 1840s. Independence from England was only a couple generations earlier and fresh in many minds. Many frontiersman found a way to celebrate, usually by firing the guns, racing and gaming. Visitors will want to put in for a drawing for a 27 star U.S. flag that has flown over the fort that is accurate to the fort's time period. Click here for a schedule of the event.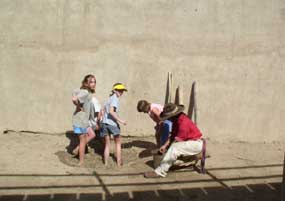 NPS Photo
July 6, 2013: Kid's Quarters
Seven to eleven year-old children are invited to "step back in time" and experience the life of a trapper, trader, laborer, craftsman, Indian, soldier or other roles. Kids learn and practice 19th century skills and experience living history for themselves. Fort staff and volunteers provide historically accurate ways for the children to experience work and life routine common at Bents' Fort in the 1840s. Many children come back year after year so they can experience as many lifestyles as possible. Applications will be available after May 1, 2013 on this website or by calling (719) 383-5026.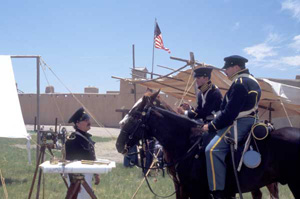 NPS
Army of the West Arrives at Bent's Fort: August 3, 2013 Though a privately owned trading post, the fort hosted several military expeditions and served as a supply depot during the War with Mexico. The Army's celebrated arrival in 1846 will be re-enacted which will include the Missouri Volunteers, U.S. Topographical engineers and Dragoons. Camps will be set up along the Arkanasas River to simulate the original camp setup downstream from the fort in 1846. Click here for a schedule.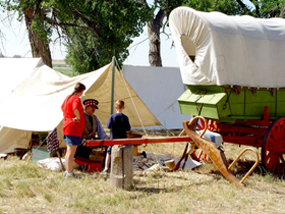 NPS Photo
October 12, 2013: Fur Trade Encampment
The park's largest living history event for 2013 takes place this day and celebrates the trappers, traders, and tribes associated with the fur trade in the Southwest. Their camps, set up near the fort, will be open for touring. Living history volunteers bring the post back to life during the event! Craftsmen will ply their trade in the shops in hopes of keeping the tools and wagons ready for use. Hunter - Trappers in camp on the river will be busy getting their furs ready for shipment. The traders will conduct trade sessions in the council room. Click here for a site bulletin of the event.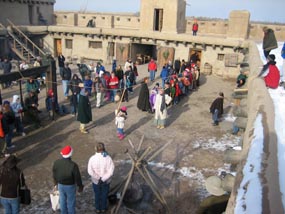 NPS
December 6-7, 2013: Holiday Celebration
Witness for yourself the joys, pleasures and pastimes of the 1840s at an isolated trading post. The spirit of the season comes alive with wagon rides, games, toy making, taffy pull, pinata break, frontier cooking, storytelling, and other holiday festivities. The event begins Friday evening, December 6 with candlelight tours of the fort and continues all through Saturday, December 7 culiminating with another evening of candlelight tours. For reservations for the eveing tour, phone (719) 383-5026 after November 1, 2013. Click here for a schedule of the event.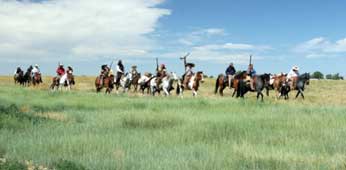 Photo courtesy of Joe Velazquez
2015 Fur Trade Symposium
On 23-26 September 2015, Bent's Old Fort N.H.S. will host the National Fur Trade Symposium. For the first time in 27 years, this Symposium will return to the Southern trapping and trading areas of the 19th Century. Registration and a fee will be rquired for the on and offsite parts of the program. The 2015 affair will be an opportunity to learn from the most highly qualified speakers, see and experience what life was like for all those involved in the Southern Rockies and Southern Plains fur industry. Numerous Living History demonstrators, of a number of ethnic groups and occupations, will, throughout the event, reveal what their life was like at the time. Period food, entertainment and other tastes of life at Bent's Fort will bring the attendees a truer feeling for the era and the lifestyle at Bent's Fort during its existence, 1833-1849. For more information about the event, click here.
Search for Events
Sorry, but there are no events between 11/16/2013 and 12/01/2013


Did You Know?
Bent's Fort's accredited "Living History Encampment" this June will offer teachers, interpreters and historians the opportunity to live the life of trapper, trader, topographical engineer, soldier, domestic, craftsman, laborer, and Plains Indian. More...