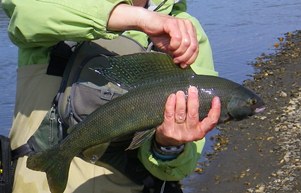 NPS Photo - Kathi Quinn
Freshwater Species
Salmon may be one of the most iconic northwest Alaskan fish, but the rivers and tributaries off of the Bering Sea and Arctic Ocean are home to dozens of other species as well, popular for sport fishing and subsistence alike. Unlike salmon, many of these species spend their entire lives in freshwater, surviving months under the ice and feeding on whatever prey they can catch -- some, like the northern pike, even known to eat small birds! Get to know some of these species, and you might find a new appreciation for the fish life of northwest Alaska.
Dolly Varden Char (Salvelinus malma)
Ranging in size from 16-22 inches, the Dolly Varden Char is an anadromous fish, meaning it spends part of its life in the ocean, but comes in to freshwater to spawn, much like salmon. Young Dolly Varden are migratory, spending their first 3 years in freshwater before journeying back and forth between fresh and saltwater seasonally. Come spawning time around September and October, Dolly Varden will move upriver with salmon, feeding on salmon fry. These are a popular fly fishing species.
Arctic Grayling (Thymallus arcticus)
Easily identified by its large sail-like dorsal fin, this relative of the salmon family thrives on the Seward Peninsula. Grayling spend their entire lives in freshwater and up to 9 months a year under the ice before spawning in the early spring between the ages of 4 and 7. They are known to feed on salmon fry, insects, and even small rodents that find themselves too close to the water! Most Arctic grayling grow to be about 1 foot long, but the largest recorded in Alaska was over 2 feet long and 5lbs.
Northern Pike (Esox lucius)
Recognizable by a long thin body and broad flat head, northern pike average 4 feet long and can be around 20lbs in Alaska. In winter, this species will remain in deeper, oxygen-rich rivers, and move to shallower areas in the early spring to spawn, depositing over 100,000 eggs each. They are known to feed on insects, fish, and even small mammals and birds if they can.