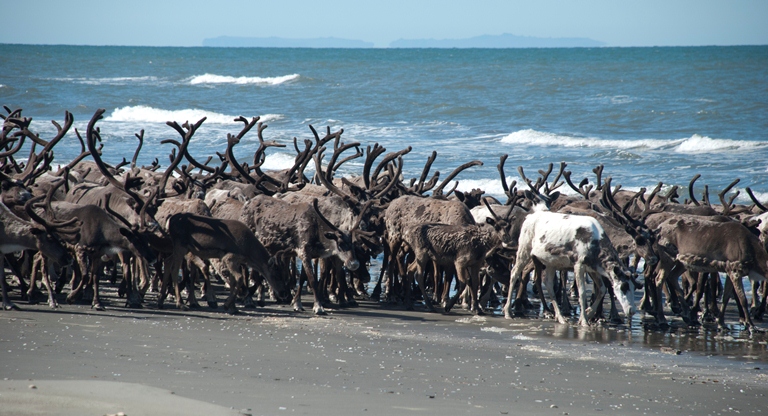 NPS Photo - Andrea Willingham
The Bering Land Bridge National Preserve has many unique places within its boundaries. One place not located on many maps is Ublasaun, a winter reindeer herding camp from the early part of the twentiethcentury. Ublasaun has a history ranging back hundreds of years. The name Ublasaun means "first light"in Inupiaq, which originates from young boys rising at first light to hunt for seals. In 1918, reindeer herdersset up a winter village at Ublasaun. Before reindeer herding, Alaska Natives depended heavily on hunting sea mammals and wild caribou for survival. The introduction of reindeer, started to offset the gradualdisappearance of caribou on the peninsula, would change the way Alaska Natives interacted with the land of the preserve for years to come.
Gideon Barr, a well-known Inupiaq elder, moved to Ublasaun with his family in 1918. His recollectionsof living at Ublasaun help to paint a picture of what life was like for Alaska Native reindeer herders in the early 1900s. Ublasaun, had superior quality of pastureland, was chosen as a winter reindeer herding camp. Temporary houses, built in about three to four days from driftwood logs and recycled materials, were small with only enough room for close family members. An elderly couple lived at Ublasaun full-time to help teach the younger generation. Barr had several mentors during his time at Ublasaun. He remembered an elder teaching him how to hunt with a bow as a child. The mentorship Barr experienced at Ublasaun was important to his growth because it helped him learn the skills he would need as an adult. By 1925, with the changes to reindeer herding on the peninsula, Barr and his family moved away from Ublasaun. The family reindeer herd split into other herds and Barr moved to Deering to attend school. Still, Barr would remember the lessons he learned at Ublasaun for the rest of his life.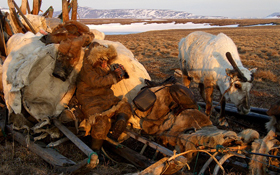 Photo courtesy of ©Konstantin Savva
The 20th century brought with it disease epidemics and further turmoil for the herding industry. Although more Inupiat were being granted ownership than before, non-Native families (most notably the Lomen family, in Nome) began taking over the industry. This led to the development of ownership cooperatives, where Inupiaq groups from multiple villages would have small herd holdings in order to compete with the larger monopolies on the industry.
Finally in 1937, Franklin Roosevelt signed the Reindeer Act, which prohibited the ownership of reindeer by non-Natives, effectively putting families like the Lomens out of business. Although the reindeer population declined sharply after this, the policy shift opened up new opportunities for the Inupiat. Today, reindeer herds in western Alaska are managed by a handful of families on the Seward Peninsula can often be seen roving along the road system, in the preserve, or near the villages.
The Goodhope Cabin and Corral sits deep within the interior of the Bering Land Bridge
National Preserve. For a long time the cabin and corral were in frequent use by
reindeer herders grazing their herds on the peninsula. Read more
Imuruk Lake borders the northern edge of the 100,000 acres Imuruk Lava Fields in the
Bering Land Bridge National Preserve. The seeming harshness of the lava beds
contrasts with the apparent vitality of Imuruk Lake. The two create an interesting
landscape of shapes and colors. Read more
The Bering Land Bridge National Preserve has many unique places within its
boundaries. One place not located on many maps is Ublasaun, a winter
reindeer herding camp from the early part of the twentieth century. Read more