Christmas, New Years Closures

The visitor center/WNPA store are closed Christmas (December 25) and New Year's (January 1) Days. Park trails remain open dawn to dusk. More »
Visiting Bandelier - Summer 2013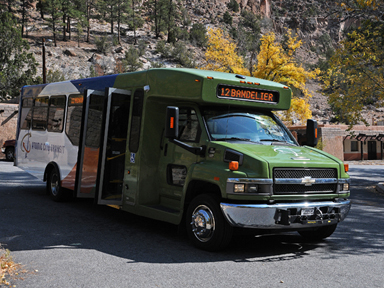 photo by sally king
Visitor Center Hours 8:30 AM - 4:30 PM
Park open from dawn to dusk
Shuttle Bus Required
Starting May 24, 2013 - October 28, 2013 visitors will be required to take a shuttle bus from the White Rock visitor center to access the main visited area of Bandelier National Monument, including the visitor center, Main Loop Trail, and Falls Trail. The shuttle bus is free but the park entrance fee will be collected at the park visitor center upon arrival. See the shuttle schedule and a map to the White Rock visitor center below. People may continue to drive into this main visited area of the park before 9 AM and after 3 PM daily (all access is by shuttle bus from 9 AM - 3 PM). For those early and late arrivals, be sure to display your park pass or entrance fee receipt on your vehicle. You can still drive into a number of areas of the park including Juniper Campground, Tsankawi, and to the many trails outside of Frijoles Canyon. Remember the park closes at sunset, so plan to leave before that time.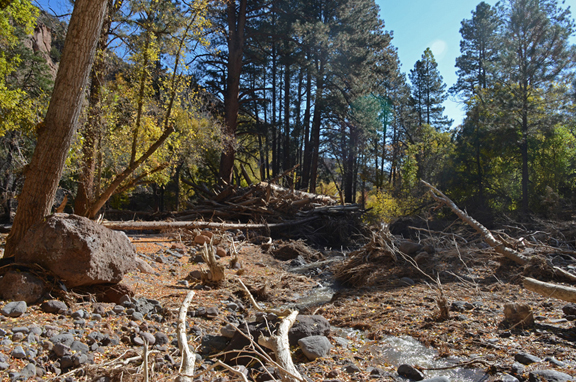 photo by sally king
That's Closed!?!!?
Bandelier National Monument has over 70 miles of trails, including the most visited 1.2 mile Main Loop Trail, and ONLY ONE AREA OF THE PARK IS CURRENTLY CLOSED. Since the flood of 2011 the Falls Trail leads 3 miles round-trip to the beautiful Upper Falls. It is closed to all entry from Upper Falls to the Rio Grande. A portion of this trail, that once sat on a ledge blasted from a sheer cliff, collapsed leaving no access to the area beyond. All of the other gorgeous 70+ miles of trail are just waiting to be explored. A route (no improvements such as bridges) to Alcove House has reopened but the kiva in Alcove House remains closed. Flood damage is very apparent on this hike.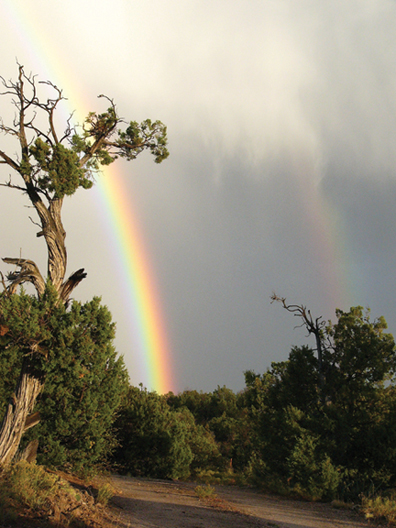 photo by sally king
Summer Visits
Summer weather in Bandelier is hot and dry in June then afternoon thunderstorms crop up in July and August. Bring plenty of water when hiking as well as a hat and sunscreen. Biting insects are uncommon so bug spray is not usually required. In late summer (July, August, and Sept) it is wise to begin a long hike early in the day before storms develop in the afternoon with heavy downpours, volumous hail, and dangerous lightning. Heavy rains can cause flashflooding in all the park canyons. This threat has increased since the Las Conchas Fire in 2011 burned the upper watershed of the park canyons. Already there have been several major flooding events in the summer of 2013. Watch for wildlife including black bear and rattlesnakes. Keep a safe distance of at least 50 yards.
Did You Know?

The Ancestral Pueblo people made blankets from wet turkey feathers twisted into yucca twine. Turkeys and dogs were the two domesticated animals that lived side by side with the Ancestral Pueblo people.