Visiting Bandelier - Spring 2013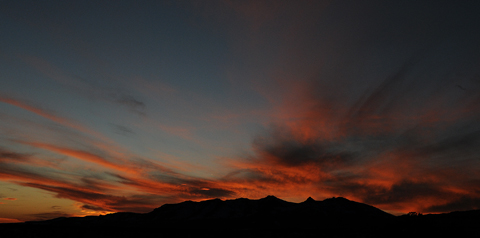 photo by sally king
Spring Visitor Center Hours 9 AM - 4:30 PM
Park open from dawn to dusk

This information is for March 17 - May 23, 2013. Although it becomes less likely as the months progress, winter weather can still occur through May.
NO SHUTTLE
For part of the year, much of Bandelier is accessible only by a shuttle bus from the nearby community of White Rock. This isn't true in the winter and spring. From mid-November, 2012 until May 24, 2013 visitors can once again access Frijoles Canyon, the park visitor center, and the main archeological sites using their personal vehicle. Visitors can visit Frijoles Canyon from sunrise to sunset. Just be sure to leave before it's dark.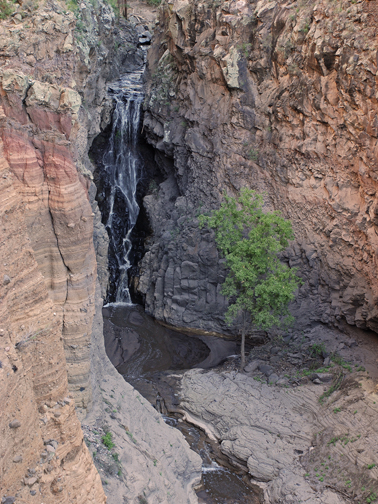 photo by sally king
That's Closed!?!!?
Bandelier National Monument has over 70 miles of trails, including the most visited 1.2 mile Main Loop Trail, and ONLY TWO AREAS OF THE PARK ARE CURRENTLY CLOSED. Due to natural erosion and the impact of visitation, the kiva in Alcove House has developed serious structural safety problems that the park is trying to correct. The funding required for these repairs is not currently available. As a result, although the ladders into Alcove House are open, the Alcove House kiva remains closed to all visitor access. Since the flood of 2011 the Falls Trail leads 3 miles round-trip to the beautiful Upper Falls. It is closed to all entry from Upper Falls to the Rio Grande. A portion of this trail, that once sat on a ledge blasted from a sheer cliff, collapsed leaving no access to the area beyond. All of the other gorgeous 70+ miles of trail are just waiting to be explored.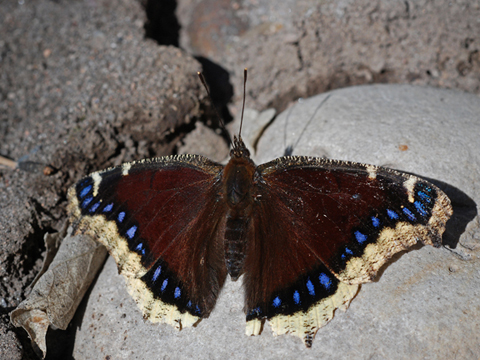 photo by sally king
SPRING VISITS
Spring can be one of the most beautiful times of the year to visit Bandelier. Days are often warm, sunny, and dry. Butterflies begin to fly starting as early as mid-February. Mourning Cloaks, Commas, and California Tortoiseshells are the first of the season, flying on warm spring days even shortly after a snowfall. Lizards start sunning themselves on warm rocks by mid-March and Rock Squirrels add their high pitched territorial songs to the mix about the same time. Flower season doesn't begin until early April with Canada Violets, Chimingbells, and Golden Smoke. Spring is an excellent time to come and enjoy the varied resources of Bandelier National Monument.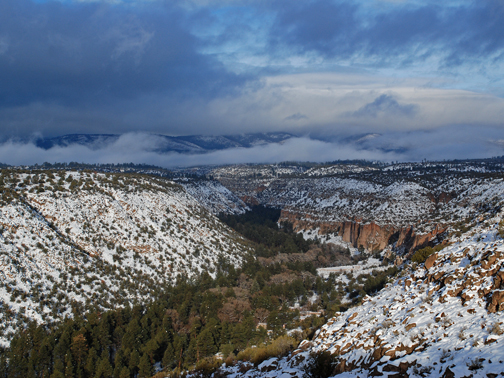 photo by sally king
SNOW DAYS
Frijoles Canyon gets an average of 25" of snow per season. The mesas get twice that and the highest elevations in the park can get even more snow. If you arrive in Bandelier just after a snow event the Main Loop Trail will be closed to visitors until staff can clear it of snow. Walking on the snow creates ice that continues to be a safety hazard for months. If it has just snowed you may want to sleep in and arrive a bit later to Bandelier. If you come early (after 9 AM but before the snow is cleared) we will let you wait near the fireplace in the visitor center. If it snows enough, the park may even be closed. Call (505)672-3861 X 517 before you leave home to make sure the park is open. Hurray for snowy days. They provide more than half the annual precipitation for most areas of the park. This moisutre is neccessary for Bandelier to stay the beautiful and unique place that it is.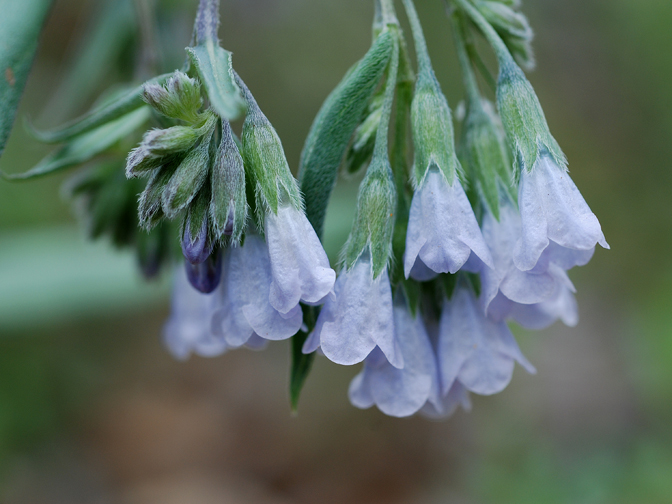 photo by sally king