Access by Shuttle Bus Only

Through October 27, 2014 all access to the most visited part of the park, Frijoles Canyon, will be via a mandatory shuttle bus from the nearby community of White Rock from 9 AM - 3 PM daily. Private cars may drive in before 9 AM or after 3 PM. More »
September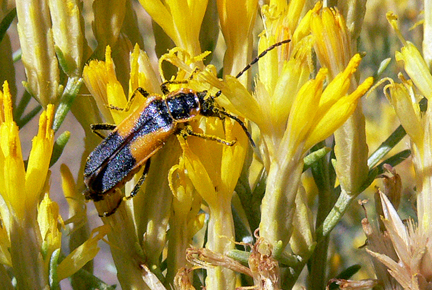 photo by sally king
THE NORM
Early in September afternoon thunderstorms may still occur regularly. Later in September cloudy skies give way to clear blue skies accented by puffy white clouds. Daytime temperatures continue to be warm or even hot. Nighttime temperatures show a marked decline. Summer birds start heading south for the winter, others arrive from summer locations to the north. Labor Day weekend is the official end to the summer season. Evening programs and Nightwalks are offered each week during the summer season. By month's end Virginia Creeper turns red and heralds the start of fall color. Visitation remains high, especially on weekends.
photo by sally king
SEPTEMBER 2010
Our recently rehabilitated visitor center is the talk of the town, getting rave reviews for the new film and museum exhibits. All trails are open. Weather has been warm but a strong cold front promises much cooler temperatures by mid-month. Tarantulas have been spotted starting their search for mates. American Pika in the high elevations are collecting bountiful amounts of greens to see them through the winter. There are also numerous bull elks bugling in the high country. Visitation has slowed after the Labor Day weekend but will increase by the end of the month with fall color and Balloon Fiesta early next month.
Did You Know?

A drink that tastes a lot like lemonade can be made from the berries of the Three-leaf Sumac. From this, the bush gets its common name, the Lemonade Bush.