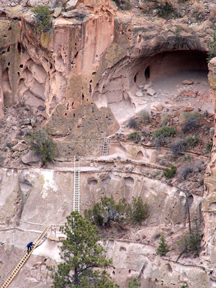 NPS Photo by Sally King
Weather
The weather in the mid-late summer months is sunny and dry, with thunderstorms in the afternoon. During heavy rains flash flooding along rivers and canyon bottoms is always possible. Hikers must always be aware of changing weather conditions and of their surroundings. Watch and listen for changing water levels in creeks as well as falling rocks; move to higher ground. Turn around if unsafe obstacles are encountered.
Frost and chance of snow storms from October through May. Wear layered comfortable sportswear type clothing appropriate for the season, with sturdy walking shoes.
Elevation and Climbing
The elevation in Frijoles Canyon is 6,000 feet and can cause breathing difficulties for some people visiting from lower elevations. Climbing ladders should not be attempted by people with heart problems or severe fear of heights. Children should be accompanied by adults at all times.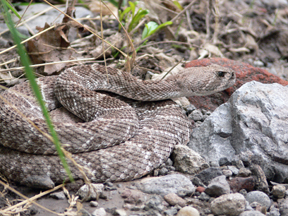 NPS Photo by Sally King
Wildlife
Hikers should be aware of the danger posed by wildlife. Enjoy the view but don't get too close. Don't harrass the wildlife, this is their home! Don't feed the wildlife as fed wildlife is more likely to pose a threat to humans.