June
photo by sally king
THE NORM
June is more often than not the hottest and driest month of the year. When hiking, be sure to carry plenty of water. Trails are normally ice-free throughout the park. Although possible, snow is very unlikely. Interpretive Evening Programs are given every Friday and Saturday night at Juniper Campground. Nightwalks are given one night a week. There are two sessions of Daycamp for Kids. Bird nesting is in full swing and numerous wildflowers are blooming including the gorgeous Cane Cholla near Long House and Shooting Stars in the higher elevations. Visitation starts out slow but becomes heavy by mid-month. A wait for parking is possible.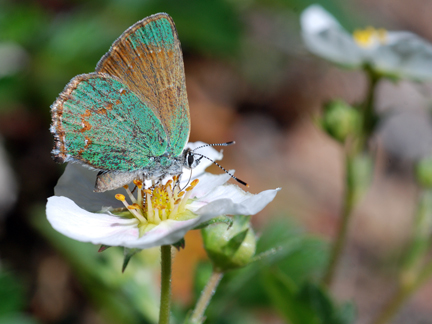 photo by sally king
June 2011
June has been warm, dry, and windy. As a result most of the park will close on June 24th until the extreme fire danger decreases. The visitor center, Main Loop Trail, Juniper Campground, trail at Tsankawi section, and the picnic area near the visitor center will remain open. Dry weather has limited the number and variety of flowers blooming in the park. Summer birds have returned and are nesting in the park. The Frijoles Canyon bear family has broken up. Mom bear chased off her two nearly grown cubs in late May. One cub unfortunately perished in an accident but the other cub has been spotted exploring the area on its own. Mom bear has been seen up canyon. Remember, whenever you encounter wildlife always keep your distance. Never feed wildlife. It is important for your safety and theirs. Visitation has been busy on weekends and steady during the week. Nightwalks are given each Wednesday night. Reservations are required. Evening programs are given on Friday, Saturday, and Sunday nights.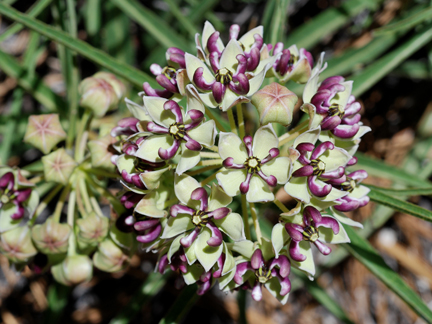 photo by sally king
WHAT'S IN BLOOM
Prickly Pear Cactus
Greenthread
Golden Aster
Fleabane
Gallardia
Hidden Flower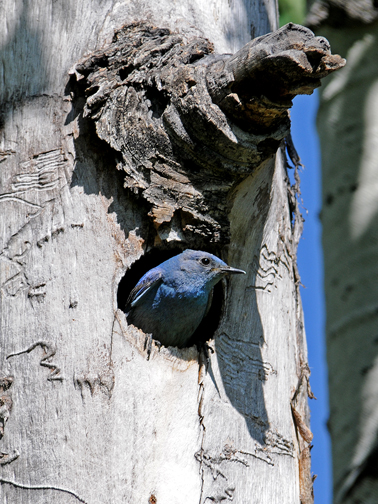 photo by sally king
WILDLIFE SIGHTINGS
Black Bear
Mountain Lion
Bobcat
Numerous nesting birds with chicks
Baby Robins already out of the nest
Butterflies, many kinds including numerous Tiger Swallowtails, Western Pygmy Blues, and Acmon Blues
Did You Know?

The Ancestral Pueblo people carved petroglyphs into the soft tuff rock above many of the dwellings built along the cliffs.