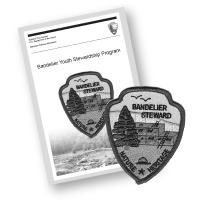 Earn Bandelier's Youth Stewardship Patch through the Youth Stewardship Program
This activity is designed to be done by GROUPS only. Individuals should check out the Junior and Deputy Ranger programs.
For any group of youth: Learn about being a park steward and earn the Bandelier Steward patch by completing a Youth Stewardship booklet along the Main Loop Trail. Each youth who completes the booklet to the satisfaction of his or her leader can get a free Bandelier Steward patch from the Visitor Center Desk.
Download and print the booklet for each member of your group...
Earn Merit Badge Requirements Using Bandelier Resources
Some or all of the requirements for the merit badges listed below can be fulfilled at Bandelier. Click on a badge's name to find out about fulfilling its requirements during a visit to the park or using park resources.
Remember, Bandelier employees are not registered Merit Badge Councilors. Scouts should refer to the District Merit Badge Councilor list available from his Scoutmaster. The descriptions provided at the links below are abbreviated and should be used in conjunction with the official BSA Merit Badge Book.
For more information about the resources listed, contact the park via email or call the Visitor Center at (505) 672-3861 x517.