Access by Shuttle Bus Only

Through October 27, 2014 all access to the most visited part of the park, Frijoles Canyon, will be via a mandatory shuttle bus from the nearby community of White Rock from 9 AM - 3 PM daily. Private cars may drive in before 9 AM or after 3 PM. More »
February
Photo by sally king
THE NORM
Cold, snowy days intermix with warm sunny days. Heavy pollen in the air from blooming junipers can mean watery eyes and runny noses for many people. The Main Loop Trail is the only trail where snow is removed. Snow and ice remains on most other trails and turns to muddy muck by mid-afternoon. The ladders at Alcove House may remain closed due to safety concerns if it has been a snowy winter. The Cross-country ski trails still have plenty of snow but on warm afternoons can become slushy. Abert's Squirrels remain active and may be seen feeding on the newly-running sap of Boxelder trees. By late month, the Sandhill Cranes can be heard as they pass overhead migrating back north. Visitation is slow but may begin to pick up by President's weekend. On occasion the parking lots have filled over this holiday. Collection of the entrance fee is done at the visitor center instead of the entrance station. Interpretive programs are only offered occasionally.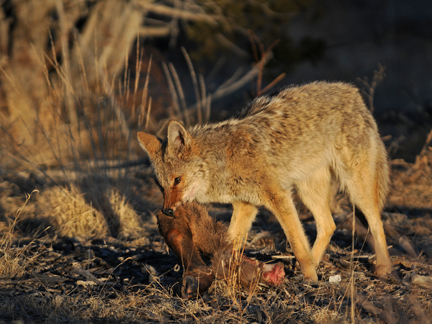 photo by sally king
FEBRUARY 2012
The weather has been warm, sunny, and dry. However, there are almost certain to be some more cold snowy days before winter ends. Be sure to call (505)672-3861 x 517 before heading to the park on a snowy day. Many trails are still icy and since the big flood in August most of the bridges across Frijoles Creek are still missing. It is highly recommended that visitors turn around at the end of Long House as the crossing of the creek below it is extremely icy and hard to pass without getting wet feet. Alcove House with its 140 ft climb is closed until work can be done. It should reopen March 1. Trails into the park's backcountry are open (except Alcove House ladders and the Falls Trail below Upper Falls) but many are difficult to navigate due to the impacts of fire and flooding. Even if you have hiked here before we strongly recommend that you stop by the temporary visitor center before heading out. Visitation has been rather slow. Elk, mule deer, and coyote have been seen frequently along the park entrance road. Abert's squirrels are being seen frequently on the Main Loop Trail and in Cottonwood Picnic Area. Cranes have began to fly by overhead returning to more northern summer homes. Due to lower than average snowfall this winter skiing and snow shoeing is fairly poor on the park's cross-country ski trail.

Did You Know?

Katydids are often called leaf hoppers. Their wings and body look like vegetation, a form of camouflage which offers this insect some protection from predators.