Access by Shuttle Bus Only

Through October 27, 2014 all access to the most visited part of the park, Frijoles Canyon, will be via a mandatory shuttle bus from the nearby community of White Rock from 9 AM - 3 PM daily. Private cars may drive in before 9 AM or after 3 PM. More »
December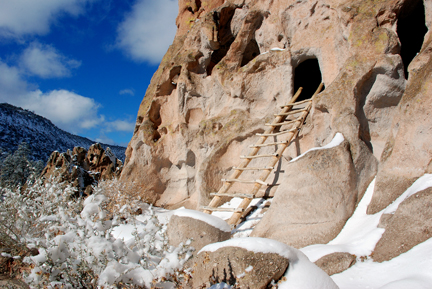 photo by sally king
THE NORM
December is usually snowy, although there can be beautiful sunny days. It is a nice time to visit the park because visitation is usually low and snow can add a special beauty to the landscape. Be sure to check ahead. A snowstorm can close the park for a few hours in the morning or a whole day. The Main Loop Trail is often closed for several hours in the morning after a snow while the staff removes snow. Visitors can not enter the Main Loop Trail until shoveling is completed. Snow removal is not done on any of the other park trails. Cross-country skiing and snowshoeing is available in the higher parts of the park and sometimes on the Alcove House Trail. Abert's squirrels, mule deer, and elk remain active in the area. Frijoles Canyon and the Park Visitor Center are closed on Christmas Day. Two nightwalks are offered in the week between Christmas and New Year's. Call 505-672-3861 x 517 for details.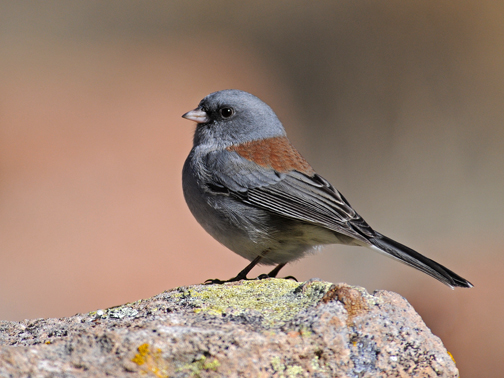 photo by sally king
December 2010
Mid-month winter weather arrived with a bang, one storm dropping a foot of snow in the lower elevations of the park. Part of the Main Loop Trail and Alcove House ladders have been closed for safety reasons. On snowy days please call the park (505-672-3861 x 517) before heading out. Visitation has been slow. Abert's squirrels, coyotes, and bobcats have been seen on the Main Loop Trail. Traditional winter birds such as dark-eyed juncos are being commonly seen but so are some birds that usually show up in warmer weather such as Rock Wrens and Merlins. Don't forget the park will be closed on Christmas and New Year's Days. Juniper Campground has closed for renovations in June 2010 but should reopen in late February 2011.
Did You Know?

Ancestral Pueblo people traded items such as fine quality obsidian and pottery from this area for items such as macaws, copper bells, and seashells from distant lands.