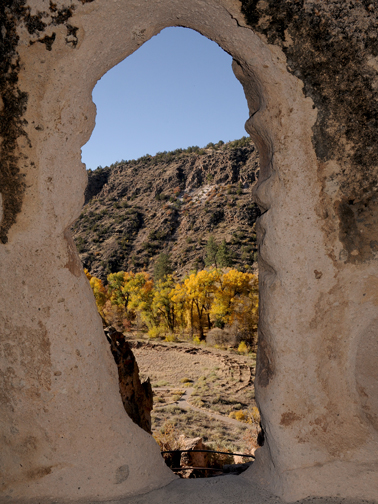 photo by sally king
Historic Visitor Center Reopens
The historic visitor center reopened on May 24, 2012. The park movie is now available . Throughout the summer more and more of the interpretive exhibits will become available as work continues to restore some sense of normalcy to the park. Irreplaceable artifacts will not be put back into the museum at this time.

Snack Bar Goes Cold
Bandelier Trading has shut down the grill at the snack bar. Green chile cheeseburgers are no longer available but a selection of cold sandwiches and salads can still whet the appetite.


Travel in the Backcountry More Difficult
Over 60% of the park's backcountry is within the fire footprint and all the canyons experienced flash flooding. Almost all of the backcountry trails are open (Falls Trail below Upper Falls remains closed) but are more difficult to follow. Persons hiking into the backcountry must be aware of the conditions: trails gone, landmarks changed, burnt out stump holes, and trees likely to fall. The limited water available in creeks has high turbidity (suspended materials) and can kill a filter with minimal use. Camping areas are more limited than before the fire. Backcountry permits are still required for overnight stays.
Boating in Bandelier
Rafters have often used the mouth of Frijoles Canyon as a take out point due to easy access via the Falls Trail. That all changed with last year's floods. Read more.