Access by Shuttle Bus Only

Through October 27, 2014 all access to the most visited part of the park, Frijoles Canyon, will be via a mandatory shuttle bus from the nearby community of White Rock from 9 AM - 3 PM daily. Private cars may drive in before 9 AM or after 3 PM. More »
Opera on the Rocks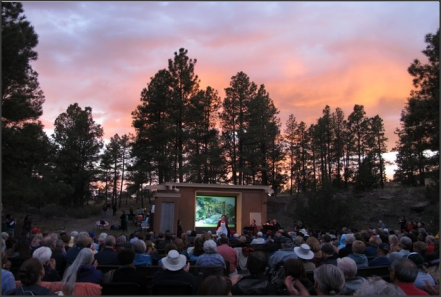 Saturday September 21, 2013 from 5:00 PM to 9:00 PM MDT
The Los Alamos Opera Guild of the Guilds of The Santa Fe Opera, Inc., Opera Alta, Bandelier National Monument, Friends of Bandelier, Los Alamos Atomic City Transit, Los Alamos Commerce Development Corporation, Don Quixote Distillery & Winery, and Black Mesa Winery present Opera on the Rocks - Opera at Bandelier. This second annual event is an opportunity for those not familiar with opera to participate in an introductory experience, as well as for opera aficionados to enjoy listening in a special venue. The performance will be held in the evening, as the sun sets, at the Monument's amphitheater. Those camping at the Juniper Campground may attend with no additional cost beyond the regular Bandelier fees - no opera ticket or reservation is required. Please bring your blankets and come enjoy an evening of fellowship and live music under the stars. Due to capacity issues, all attendees must utilize the free shuttle service from either theWhite Rock Visitor Center in White Rock, or Sullivan Field in Los Alamos. Shuttles will depart at 5PM for the Opera at Bandelier. The event begins at the shuttle pickup locations, where the Atomic City Transit will transport guests at 5 PM to Bandelier. Upon arrival at the Bandelier Amphitheater, guests can participate in a complimentary wine tasting hosted by the Don Quixote Distillery & Winery and Black Mesa Winery; glasses and bottles will be available for purchase. At 6:15, the performance begins - a production of Menotti's, Amahl and the Night Visitors by Opera Alta coordinated by Alicia Solomon will be presented.
Opera: Amahl and the Night Visitors (Gian Carlo Menotti), Some of you may be familiar with this opera since it was the first opera commissioned for television in the early 1950s. It was played annually at Christmas on NBC throughout the 1950s-1960s. This is an opera that's very appropriate for children and Menotti wrote it based on his childhood memories
Time: 5:00P-9:00P Opera is approximately 45 minutes 5:00P-6:15P: Shuttle to Bandelier, wine tasting, and opera introduction 6:15P-7:00P (may run later): Opera 7:00P-9:00P: Shuttle back to cars Date: Saturday September 21
Transportation: Visitors MUST take shuttle from either White Rock Visitor Center or Los Alamos Sullivan Field. Shuttles begin at 5:00P
Beverages/Food: Don Quixotes and Black Mesa Winery will provide Wine. David's Dogs will be selling hot dogs, Brats, and soft drinks.

Price: The opera guild will charge a fee for this event but part of the proceeds will be donated to Bandelier. Campers in Juniper Campgound WILL NOT have to pay. They are welcome to just walk over and enjoy the opera.
Prices are: Non guild member:$12
Non guild family (up to 4): $30
Guild member: $8
Guild member family (up to 4): $16
The only way to purchase tickets is online through the opera guild. Click here to purchase tickets.
Did You Know?

Scorpionweed gets its name from the shape of the flowers, which unfold like a scorpion's tail as they prepare to bloom.