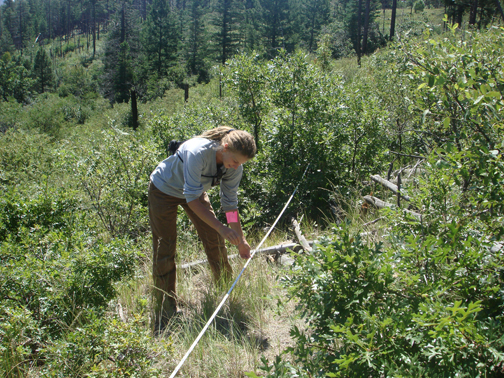 Scientific Research in the Natural Sciences
Even though Bandelier is modest in size when compared to the flagship national parks, scientists here are working hard to have the same output as some of the largest parks. Cultural Science research has been done in Bandelier for more than a century starting the writings of Adolph Bandelier, and in recent decades natural science research has gained equal footing.
Learn more about research currently underway at the park
Restoration of the Pinon-Juniper Woodland
Park Flight Program
Rio Grande Cut-throat Trout
Elk Studies
A portion of the ecological research done at Bandelier comes from the Western Mountain Initiative. The Western Mountain Initiative (WMI), part of the USGS Global Change research program, seeks to understand and predict the responses of mountain ecosystems to climate variability and accordingly shape land management strategies. The USGS Jemez Mountain Field Station at Bandelier plays an active role in gathering and analyzing data to further understand the complex responses of mountain ecosystems to climate changes.
The USGS and the Park Service combine efforts at Bandelier to form the Ecology Group. This group has developed large, regional-scale networks of long-term ecological monitoring and global change research. This research has promoted cross-boundary collaborations with numerous federal, state, local and non-profit public institutions working toward integration of science with resource management. Ultimately leading to a place-based approach where scientists interact on-site with managers on a regular basis, providing effective communication, application and follow-through on relevant management issues.