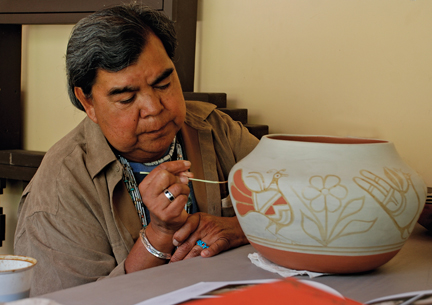 photo by sally king
Beliefs
Beliefs are integral in shaping Pueblo perspectives of the universe and the peoples' relationships with it. Colors – green, red, blue, yellow, white and black - define directions on the earth. The seasons define daily activities such as storytelling, planting, and dancing. Respecting the earth and all that it provides is emphasized in stories, songs, and dances.
"Through oral traditions and dances we know that the spirits of our ancestors are still present in our homes on the Plateau." – Gary Roybal, San Ildefonso Pueblo
Skills
Some skills that were fundamental to the survival of the Ancestral Pueblo people are continued today as a part of traditional Pueblo culture. Many Pueblo people make pottery, baskets, paintings, clothing, and drums using traditional materials and designs. The knowledge and techniques needed to maintain these skills are passed on from generation to generation – an important facet of continuing the Pueblo culture.