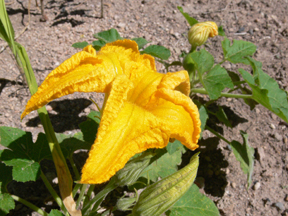 NPS Photo by Sally King
Crops
The Ancestral Pueblo people depended on agriculture to sustain them in their more sedentary lifestyle. Corn, beans, and squash were the most important crop items. Called the "three sisters", these foods were essential to survival because together they provided for many of the people's nutritional needs. For example, when eaten together corn and beans contribute a full protein.
Field Locations
Mesatops were used for much of the farming. Small plots were probably located in the narrow canyons as well. However, steep canyon walls blocked much of the day's sunlight and the canyons worked as cold sinks making growing crops in the canyon somewhat problematic. Field locations dotted the mesatops where afternoon thunderstorms were the most likely to offer necessary moisture.