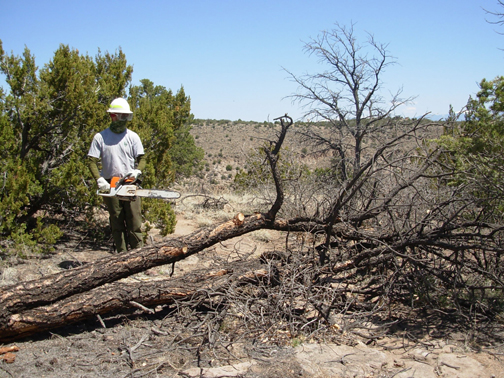 NPS Collection
Ecological Restoration Project
Bandelier National Monument plans to continue mechanical restorations treatments in selected portions of the park, specifically in mesa top settings within the piñon-juniper woodland zone. These treatments are designed to reduce unnatural rates of soil erosion that is damaging Bandelier's archeological sites and restore the piñon-juniper woodland to a naturally functioning system. Basic treatments will consist of an overstory thinning of live juniper and dead piñon, and subsequent lop and scatter of the cut trees into bare soil intercanopy locations as a slash mulch. A total of approximately 1200 acres would be treated during this phase of this project (see map). Timeframe for completion of this work under the current contract extends from September 1, 2009 to May 15, 2010.
Current vegetation is a piñon-juniper woodland mosaic with recent widespread piñon mortality, scattered Ponderosa Pine savanna stringers in the swales, and occasional patches of grass and shrub vegetation types interspersed throughout. Research indicates the woodland mosaic has expanded and thickened historically, reducing the extent of pine savanna, grass, and shrub types, and initiating accelerated soil erosion which is impacting natural and cultural resources. The proposed work will attempt to reverse these historical trends by thinning woodland vegetation from sites which have the potential to support more robust understory vegetation, recreating a mosaic of woodland, savanna, and grass-shrub-land types, and stabilizing soils and cultural resources.
Archeological surveys in the woodlands have documented erosion damage at nearly 80% of the sites. In areas where these treatments have been implemented, there has been as much as a tenfold decrease in the amount of soil erosion as measured in sediment traps, indicating that soil is retained by the increase in grasses and forbs and soil erosion is significantly reduced. This project will not only help preserve the very cultural resources the park was created for but also supports the goals of the Fire Management program by recreating areas that will carry natural fires again, help preserve the cultural landscapes of Bandelier as a naturally functioning system and will also make the woodland more resilient to the predicted effects of climate change.