Spectacular Solar Show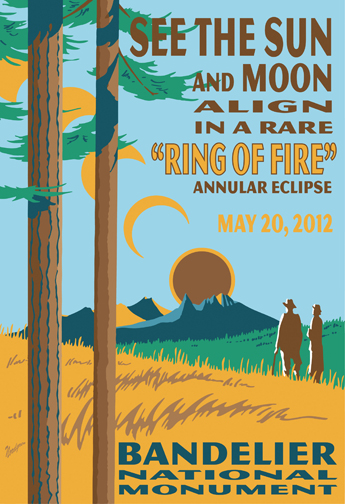 poster by tyler nordgren
Solar Eclipse - May 20, 2012
About every 18 years the moon passes in front of the sun darkening the skies. Witness this spectacular event, by joining us on Sunday May 20 for an Annular- "Ring of Fire" Solar Eclipse. In addition to the viewing, other solar activities will be offered throughout the day.

Schedule of events
2:00-3:00 pm: Junior Ranger Program….Meet a ranger at the Juniper Campground Amphitheater to discover more about our closest star. Participate in fun family activities. Sign-up required, please call 505 672-3861 ext. 512.
6:00-6:25 pm: Stellar Show…What is an eclipse? What does annular mean? Will I go blind by looking at the sun? All of these questions and more will be answered prior to the big Solar Eclipse event. Get a chance to do something your mom always told you not to, look at the sun through solar telescopes provided by the Bradbury Science Museum. During the program, rangers will pass out safe solar viewing glasses to wear during the eclipse. Sign-up required, please call 505 672-3861 ext. 512.
6:25-8:00 pm: Annular "Ring of Fire" Solar Eclipse….The moon will begin to cover the sun around 6:30 pm. Slowly we will see a bull's-eye image as a ring of the sun is seen around the moon. Between 7:30 and 8:00 pm the moon will begin to shift as the sun sets. Truly an unforgettable experience!
8:00-11:00 pm: Night Sky viewing with telescopes…The sky holds spectacular wonders both day and night. After witnessing the Solar Eclipse, stick around for a stellar show. Local astronomers will have telescopes set up magnifying different features in the night sky. As the sky darkens, take a trip through our solar system with a ranger guided constellation tour.
For more information or to sign-up for these events please call 505-672-3861 ext. 512
Did You Know?

The Ancestral Pueblo people carved petroglyphs into the soft tuff rock above many of the dwellings built along the cliffs.