Ranger-Guided Backcountry Hikes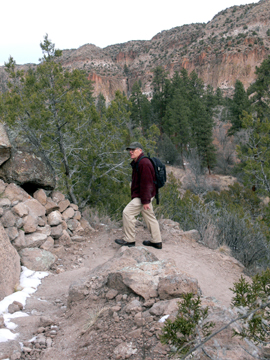 NPS photo
Ranger-guided backcountry hikes will be presented every second Saturday of the month. The hikes will lead to a variety of backcountry locations. These hikes are by reservation only and the number of attendees is limited. If you are interested in participating call (505)672-3861 x 517 during business hours (9 AM - 430 PM daily) to sign up for the individual hike. The park entrance fee ($12/vehicle) applies but there are no additional fees.
These hikes are going into remote areas and will not be confined to trails. Since hikes are scheduled year-round, persons wishing to particpate must be be prepared for whatever weather conditions may be encountered. Winter means cold temps, snow, wind. Spring is wind and cold temps. Summer is sun, heat, rain,
lightning, a chance of flash flooding, and hail storms, dropping temps during hailstorms. Autumn is cool to warm temps. Weather is always changing and can be very unpredictable. Layers and compact rain gear keeps you ready for whatever weather conditions might be encountered. These hikes will cover all kinds of terrain from grassy meadows to steep rocky desert terrain. Comfortable sturdy boots or hiking shoes are essential.
The ten essentials:
Navigation (map and compass) NO GPS allowed!!
Sun protection (sunglasses and sunscreen)
Insulation (extra clothing)
Illumination (headlamp/flashlight)
First-aid supplies
Fire (waterproof matches/lighter/candles)
Repair kit and tools
Nutrition (extra food)
Hydration (extra water)
Emergency shelter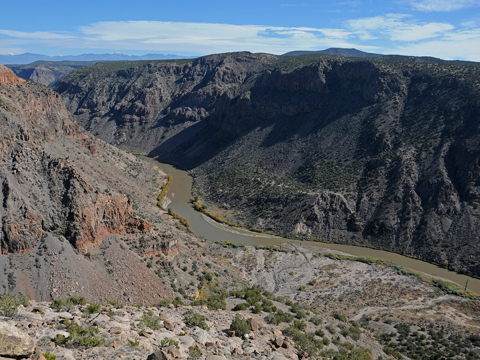 NPS photo
PLANNED HIKES
February 8, 2014
Hike the Burro Trail for a ways then leave the trail to hike down the lower part of Lummis Canyon. There will be a lot of off trail hiking. There will also be some scrambling but nothing really difficult. Options will be discussed and decided along the hike. This will be a moderate to strenuous hike of up to 12 miles depending on where the hikers decide the hike should lead. Join with the Burro Trail to return to the visitor center parking lot. All day hike of approximately 8 hours. Bring food, water, warm layers, and a camera. Traction devices for your shoes might be helpful in some areas.
March 8th, 2014
Up Frijolito Trail then along mesa rim to overlook of the mouth of Frijoles Creek and then round about back. Moderate. Apprx 8 mile round trip.
April 12th, 2014
From Ponderosa Campground to Upper Crossing to the rim of Alamo Canyon then back across mid Alamo and down the long trail to the visitor center. A shuttle with particpant vehicles will return hikers to Ponderosa Campground. 8 - 10 miles round trip. Moderate to strenuous.
Did You Know?

A drink that tastes a lot like lemonade can be made from the berries of the Three-leaf Sumac. From this, the bush gets its common name, the Lemonade Bush.