Visitor Center Open / Road Construction

Park roads and parking lots are under construction. Expect occasional 10 - 15 minute road construction delays along Hwy 240 Loop Road. There is limited parking at the Ben Reifel Visitor Center. Please follow the signs to park in designate areas.
Campgrounds
Experience Badlands National Park overnight and enjoy its breathtaking sunrises and sunsets, colorful flowers, bountiful wildlife, and rugged scenery from one of two campgrounds available in the park: Cedar Pass Campground and Sage Creek Campground.
Both campgrounds are open year-round, and camping is limited to 14 days. Due to fire danger, campfires are not permitted in either campground and collection of wood is prohibited. However, camp stoves or contained charcoal grills can be used in campgrounds and picnic areas. When using charcoal grills, ensure the charcoal is cool prior to disposal to prevent a trash fire.
Detailed information particular to each campground is located below.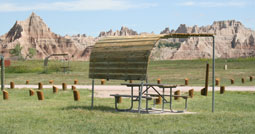 Roberta M. Gorman - NPS Photo
Cedar Pass Campground
Located near the Ben Reifel Visitor Center, the Cedar Pass Campground has 96 level sites with scenic views of the badlands formations. Forever Resorts manages the campground. For additional information, including questions about reservations, contact the Cedar Pass Lodge.
2014 Rates: Camping fees are $18 per night per campsite, or $30 per night for campsites with electrical hook-ups. A dump station is available for a $1.00 per use fee. Cold running water, flush toilets, and covered picnic tables are available.
A limited section of the campground is open during the winter months.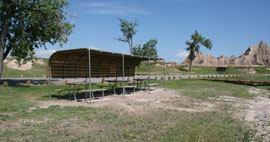 Roberta M. Gorman - NPS Photo
Group Camping
Four campsites are available in the Cedar Pass Campground for organized groups with a designated leader. The nightly fee is $3.00 per person with a minimum fee of $30 per site.
Advance reservations for group camping are required and can be made by contacting the Cedar Pass Lodge online or by phone at 605-433-5460.
Reservations for the busy summer season are accepted beginning the first week in March of each year.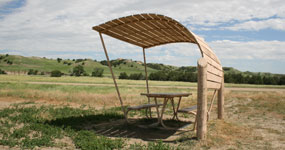 Riley Sain - NPS Photo
Sage Creek Campground
Bison often wander through this primitive campground, located on the west side of the park's North Unit, near the Badlands Wilderness Area. Access is located off of the Sage Creek Rim Road, an unpaved road that may temporarily close after winter storms and spring rains. The road provides limited turnarounds for large recreational vehicles. Camping is free of charge. Pit toilets and covered picnic tables are available, but no water is available on-site. Sites at the Sage Creek Campground are available on a first-come, first-served basis and rarely fill to capacity. A portion of the Sage Creek Campground is designated for horse use.
Did You Know?

To the Lakota, this harsh and desolate landscape was known as "mako sica," meaning "land bad." Early French trappers similarly described the area as "bad lands to travel across." Today, geologists consider all the places in the world with similar topography and formation badlands.