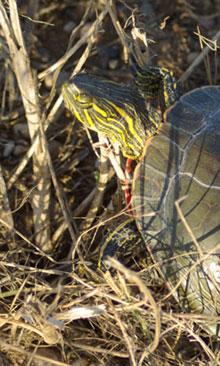 NPS Photo by Larry McAfee
The open prairie and rugged badlands formations offer little in the way of shelter. Snakes and lizards are most active during the cooler parts of the day in summertime, seeking shade during the mid-day hours. In the winter, their metabolisms slow as they take shelter underground. They may go for months without eating. Similarly, painted and snapping turtles are found in association with water in summertime, and pass the winter by burying themselves in the mud at the bottom of streams or small ponds.
The prairie rattlesnake is the only venomous snake in the park. Despite perceptions of rattlesnakes as aggressive, they prefer to avoid or ignore people. Bites are extremely rare and no fatalities have ever been recorded in the state of South Dakota. Nevertheless, their bites are dangerous, and prairie rattlesnakes should never be approached. To avoid surprising a snake, carefully watch where you put your hands and feet while hiking. Wear long pants and boots rather than sandals, particularly when walking in tall grass.