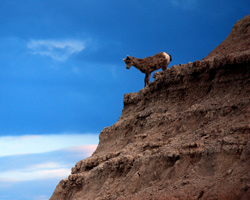 NPS Photo by Shaina Niehans
The mixed-grass prairie is home to many species of animals. In Badlands National Park, scientists have observed 39 mammal species, 9 reptile species, 6 amphibian species, 206 bird species, and 69 butterfly species.
The prairie animals are well adapted to their environment. They can handle climate extremes and find protection in these vast, open spaces. Most small prairie mammals either dig burrows or invade another animal's burrow for shelter. Others hibernate or become dormant in the cold of the winter. Larger mammals may seek protection from the winter wind by taking cover in badlands canyons or in low spots such as drainages or woody draws. Some ungulates find protection in herds as they graze throughout the year.