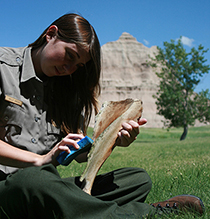 NPS/Cathy Bell
Badlands National Park is a great place for teens to visit, volunteer, or work.
Internship Opportunities
Youth from high schools neighboring Badlands National Park are invited to serve as interns during the summer months. Internships are a great way to gain work experience while learning about the many different career opportunities available in the national parks.
Older teens who have finished high school or who are enrolled in college can learn more about volunteer opportunities at Badlands or search for volunteer positions throughout the national park system.
Follow the 2014 Summer Intern Adventures Blog.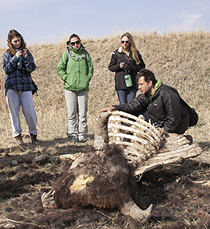 NPS/Sara Feldt
Youth Camp
High school students from the Red Cloud Indian School (Pine Ridge, SD), other area high schools, and the Calhoun School (New York, NY) come together in Badlands National Park every March for a week of outdoor exploration and cultural exchange. Learn more about the Youth Camp from participants who describe their adventure in a series of short videos.
Things to Do in the Park
Things to Do Online or at Home
Opportunities at Other National Parks
Don't live near Badlands, but still want to get involved with national parks? There are over 400 sites in the national park system, located in every U.S. state as well as American Samoa, Guam, the Northern Mariana Islands, Puerto Rico, and the Virgin Islands. Together, these sites tell the American story in all its diversity. The purpose of the National Park Service, as laid out by Congress in 1916, "is to conserve the scenery and the natural and historic objects and the wild life therein and to provide for the enjoyment of the same in such manner and by such means as will leave them unimpaired for the enjoyment of future generations." Find a park near you.