Mammals of Aztec Ruins National Monument
Habitats within the park include pinon-juniper woodland, riparian, and abandoned farmlands. Together they provide homes for a diversity of mammal species.
As part of the National Park Service's Natural Resources Initiative, wildlife biologists conducted mammal inventories in the park during 2001 and 2002. During the first field season, they captured and released eighty mammals of 12 species, and observed one other species. They anticipated the occurrence of five additional species, but did not document them during the first field season. The park staff and the biologists have since documented additional species.
Biologists found that the pinon-juniper woodland on the mesa top provided the highest species richness for terrestrial mammals.
The most common mammals captured were the western harvest mouse and the non-native house mouse. Acoustic surveys and capture through mistnetting identified at least seven species of bats. Species richness for bats was highest at the irrigation ditch and great kiva, where five species were documented. Two federally listed species of concern, the western small-footed myotis and the spotted bat, were documented through capture and acoustic survey, respectively. A nesting colony of the pallid bat is present in the roof beams of the reconstructed great kiva, where visitors are sometimes puzzled by the faint chirping sounds that the colony emits at certain times of the year.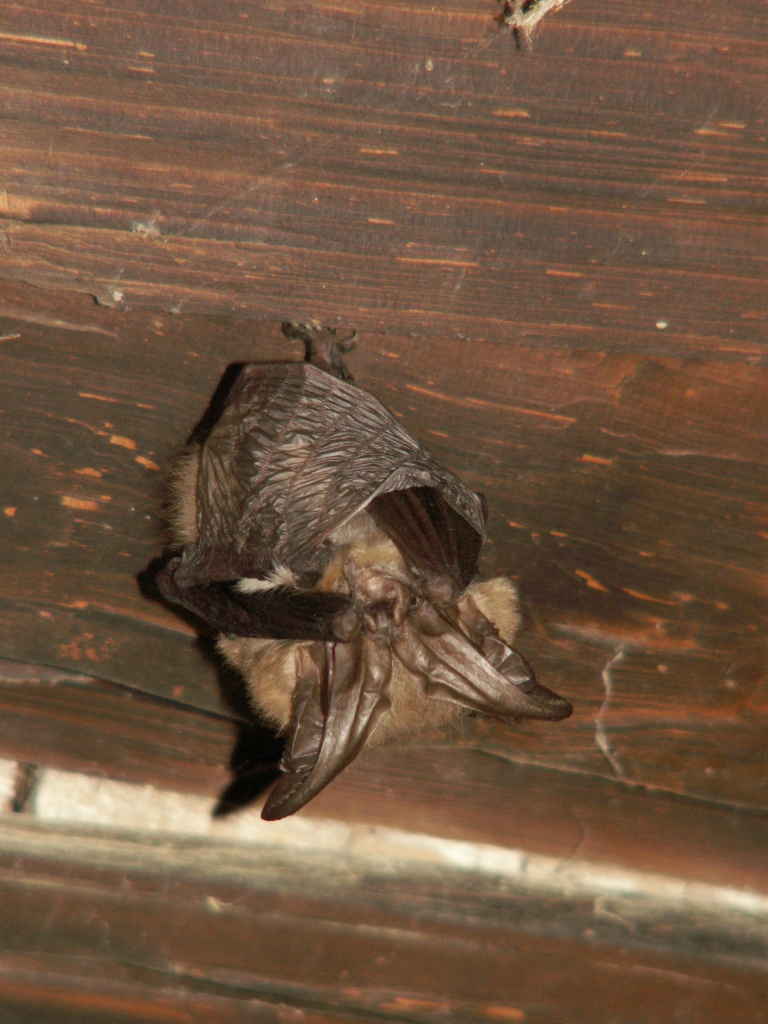 NPS Photo by Janet Ruth
During the inventory season in 2001, biologists captured, observed, or documented previous sightings of the following 16 species of mammals:
Western small-footed myotis
Yuma myotis
Big brown bat
Spotted bat
Pallid bat
Townsend's big-eared bat
Brazilian free-tailed bat
Big free-tailed bat
Desert cottontail
Black-tailed jack rabbit
Silky pocket mouse
Western harvest mouse
Deer mouse
House mouse
White footed mouse
Western spotted skunk
Mule deer
Additional species identified by park staff or biologists include:
Rock squirrel
Gunnison's prairie dog
Botta's pocket gopher
Muskrat
Porcupine
Coyote
Red fox
Bobcat--Sighted by an ornithologist early one morning in 2002. She reported that the animal had a domestic duck clamped in his mouth.
American black bear--An unusual occurrence, this bear had been sighted several times in the nearby City of Aztec and made the front page in the local newspaper.