Earth Day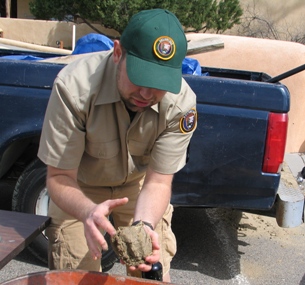 Lyn Wharton
The Fifth Annual Earth Day Celebration will be April 20, 2013 from 10:00am to 2:00pm.
Aztec Ruins National Monument invites everyone to participate in the annual Earth Day Celebration with presentations, demonstrations, and activities for all ages! The National Park Service is a national leader in environmental stewardship, and Aztec Ruins is an ideal place to discover ways each of us can reduce our impact on the environment. We can learn from the lifestyles of our ancestors and explore new technologies. Park staff partners with other land management agencies, environmental groups, local businesses, and community organization to present activities and interactive displays.
The event includes activities for all ages, focusing on issues that are particularly relevant today and incorporating cultural views and ancient uses of natural resources. Visitors have the opportunity to visit with local experts and learn about current sustainable development technology, land and water conservation, alternative energy and fuels, and sustainable agriculture. Some of the activities involve learning about the original green buildings and shaping adobe blocks, playing recycling games, making solar ovens, and much more.
Storytellers and dancers from affiliated tribes share cultural perspectives on resource use, respect for the earth, and the connections between humans and the environment. Volunteers interpret ancestral Pueblo diet and agriculture, and the growers market shows you how to buy locally-produced food. There are approximately thirty booths and activities for visitors to enjoy in addition to touring the site and museum. Several different kinds of alternative-energy and fuel-efficient vehicles will be on display as well.
This celebration is not just important for Aztec Ruins; it has become a valued event within the community. The event renews interest in the National Monument among teachers and other partners. "Footprints on the Earth" is the theme of the 2013 event.
Did You Know?

President Warren G. Harding designated Aztec Ruins a national monument in 1923 in order to preserve the site "for the enlightenment and culture of the nation."