Delicate Arch Viewpoint Road Closed

Due to flash flooding in Winter Camp Wash, the Delicate Arch Viewpoint Road is currently inaccessible.
Extreme Fire Danger

Due to extremely dry conditions, fire restrictions are in effect in all national park units in Southeast Utah. More »
Things To Know Before You Come
The Arches Visitor Center is open seven days a week to help visitors get oriented to the park and nearby area. It pays to do at least a little research before you arrive, however, in order to be best equipped to enjoy the park during your stay.
Services
Food, gas, lodging and similar services are not available in Arches. These are available in the town of Moab. Visit the Grand County Travel Council for more information. The Arches Visitor Center bookstore sells light snack items and reusable water bottles; bottles may be filled at the visitor center, Devils Garden Trailhead and Campground.
Weather and Climate
The climate at Arches is physically demanding any time of year. From June through September, daytime temperatures may exceed 100 degrees Fahrenheit. Winter temperatures often drop below 32 degrees Fahrenheit. Temperatures may range 50 degrees in a 24-hour period. more...
Transportation
Arches may be explored by private automobile or RV, chartered bus, bicycle, or other independently arranged transportation. There is no shuttle service operated by the park. Parking lots can become crowded during the busy season (April - September), especially during peak hours of the day (10:00 a.m. to 4:00 p.m.). Visitors are encouraged to carpool and to leave large trailers outside the park. more...


Did You Know?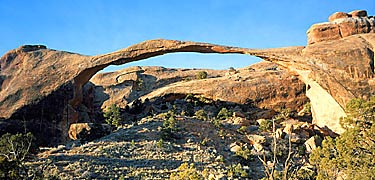 Landscape Arch is the longest arch in Arches National Park, measuring 306 feet from base to base. In 1991, a massive slab of rock fell from its underside, resulting in an even thinner ribbon of rock.