Tiny Forests in the Desert
Tiny Forests in the Desert

Like trees in a forest, biological soil crusts play a key role in the ecosystems in which they are found. Listen as Dr. Sasha Reed, research ecologist with the U.S. Geological Survey, explains why damage to soil crust communities can have greater consequences than you might think. Dr. Reed was awarded the Presidential Early Career Award for Scientists and Engineers in 2011.

Duration:

5 minutes, 53 seconds

Credit/ Author:

Jennifer Jerrett

Date created:

2012-09-09
Watch Your Step!
Help us protect soil crusts during your visit. Please walk on trails, rock or in sandy washes (where water flows when it rains), and keep all vehicles and bikes on designated roads.
View more soil crust images on our Flickr page.
A Natural Nursery

Plants depend on biological soil crust for more than just erosion control. Read More

Soil Crust Photos

Want to see more? Check out our soil crust photo set on Flickr. Read More

On the Web

www.soilcrust.org contains a great deal of information about biological soil crusts. Read More
Did You Know?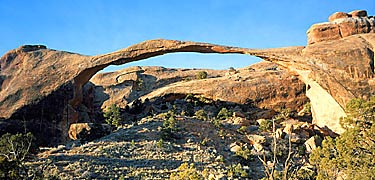 Landscape Arch is the longest arch in Arches National Park, measuring 306 feet from base to base. In 1991, a massive slab of rock fell from its underside, resulting in an even thinner ribbon of rock.