Delicate Arch Viewpoint Inaccessible

Wolfe Ranch and the hiking trail to Delicate Arch are open, but flood waters and mud have blocked the road to Delicate Arch Viewpoint.
Safety in Bear Country

Black bears have been seen near Devils Garden Campground. Don't lure or feed them. Dispose of trash in designated receptacles; don't leave it in bags or other soft containers. Store food in vehicles or hard containers when not being prepared or consumed. More »
Secrets of Red Rock
The Discovery Channel, the National Park Service and the National Park Foundation present Secrets of Red Rock: Arches and Canyonlands National Parks. Southeast Utah is a land of perpetual change: from ancient seas to present day magnificent rock formations, delicate arches and soaring spires. This documentary highlights the geological marvels and cultural history of both parks, with beautiful footage of the spectacular and challenging red rock wilderness surrounding them. This 15-minute video is shown daily in the Arches Visitor Center.
Video for Windows/PC
Videos in WMV format can be opened in Winamp, Windows Media Player and other video players.
Secrets of Red Rock - low quality [18mb wmv file]
Secrets of Red Rock - medium quality [40mb wmv file]
Video for iPod/Mac
Videos in MP4 format can be opened in Quicktime, iTunes and other video players. These files can also be played on iPods.
Secrets of Red Rock [44mb mp4 file]
Did You Know?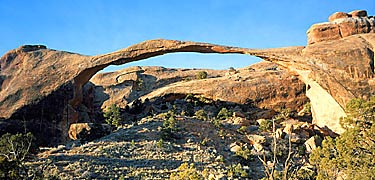 Landscape Arch is the longest arch in Arches National Park, measuring 306 feet from base to base. In 1991, a massive slab of rock fell from its underside, resulting in an even thinner ribbon of rock.