Winter Conditions

The Delicate Arch Viewpoint Road is closed. All other roads and trails remain open, but many trails are snowy, icy, and dangerous. Please inquire at the visitor center for the most up-to-date conditions.
Construction Update - 11/25/2013

Construction work continues at the Devils Garden parking lot, limiting parking and causing occasional delays. Visitors can avoid the area by turning around at Sand Dune Arch. More »
2009 Community Artist - Chad Niehaus
Artist's Statement
The Community Artist in the Parks program provided a unique opportunity to refine my skills as a printmaker, particularly in a plein air setting. I was able to share my passion for lands protected by the National Park Service and to discuss the power of natural places for artistic inspiration with visitors from around the world. I became more in love with my big backyard and further motivated to creatively express my connection to it.

A collection of Chad's prints can be viewed in the gallery below.

Did You Know?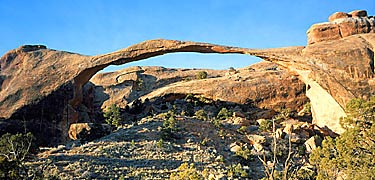 Landscape Arch is the longest arch in Arches National Park, measuring 306 feet from base to base. In 1991, a massive slab of rock fell from its underside, resulting in an even thinner ribbon of rock.