Delicate Arch Viewpoint Road Closed

Due to flash flooding in Winter Camp Wash, the Delicate Arch Viewpoint Road is currently inaccessible.
Extreme Fire Danger

Due to extremely dry conditions, fire restrictions are in effect in all national park units in Southeast Utah. More »
Entrance Fee-Free National Public Lands Day
Date:
September 22, 2008
Contact:
Paul Henderson, 435-719-2140
The four parks of the Southeast Utah Group; Arches and Canyonlands National Parks and Hovenweep and Natural Bridges National Monuments will waive all entrance fees on Saturday, September 27, 2008 in observance of National Public Lands Day.
Did You Know?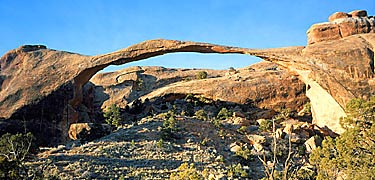 Landscape Arch is the longest arch in Arches National Park, measuring 306 feet from base to base. In 1991, a massive slab of rock fell from its underside, resulting in an even thinner ribbon of rock.