Delicate Arch Viewpoint Inaccessible

Wolfe Ranch and the hiking trail to Delicate Arch are open, but flood waters and mud have blocked the road to Delicate Arch Viewpoint.
Safety in Bear Country

Black bears have been seen near Devils Garden Campground. Don't lure or feed them. Dispose of trash in designated receptacles; don't leave it in bags or other soft containers. Store food in vehicles or hard containers when not being prepared or consumed. More »
National Parks Widen Fire Restrictions
Date:
June 15, 2012
Contact:
Denny Ziemann, 435-719-2120
Due to the continued very high fire danger and current level of fire activity in the State of Utah, Superintendent Kate Cannon has announced fire restrictions for Arches and Canyonlands National Parks, and Natural Bridges and Hovenweep National Monuments.
Fires are permitted only in designated fire grates in developed campgrounds and picnic areas. All open fires (including charcoal) are prohibited in backcountry campsites.* Petroleum fueled stoves and grills will still be permitted. Smoking is also prohibited, except within enclosed vehicles, parking lots or developed areas that are cleared of all flammable materials for at least three feet in diameter. Visitors are reminded to exercise caution and to properly extinguish all lighted smoking materials.
*Charcoal fires permitted along the rivers in Canyonlands if contained in a metal fire pan.
Cannon stated that "the fire season has arrived extremely early to Utah this year and firefighting resources are likely to be stretched to the limit. In cooperation with local, state and other federal agencies, we must take these precautions to ensure the safety of park visitors and resources."
These fire restrictions are effective beginning June 14, 2012 at 12:01 a.m. and will remain in effect until further notice.
Information on statewide fire restrictions can be found at http://www.utahfireinfo.gov/.
Did You Know?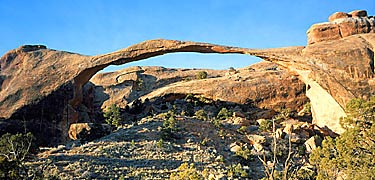 Landscape Arch is the longest arch in Arches National Park, measuring 306 feet from base to base. In 1991, a massive slab of rock fell from its underside, resulting in an even thinner ribbon of rock.